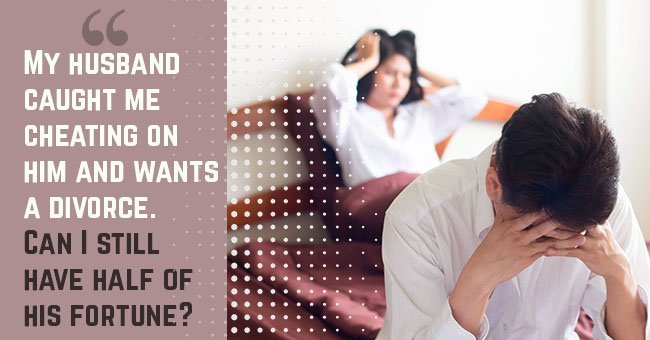 Story from subscribers: My husband caught me cheating on him and wants a divorce. Can I still have half of his fortune?
I married my husband 12 years ago when I was 23 and he was 49. I won't pretend it was love at first sight on my part, but he was - and still is - a very prominent and wealthy man.
I must admit the first few years were a lot of fun. We traveled around a lot, and he was constantly giving me gifts and jewelry, and spoiling me. He isn't exactly a movie star as far as looks go, and after a while, I started to get a bit bored, especially because he suddenly became obsessed with us having a baby
I wasn't about to have a child and ruin my figure, and get stuck with some runny-nosed brat, so I told him I'd gone off the Pill, but of course, I didn't! Two years later he was worried because I wasn't pregnant yet, and insisted we go to a specialist. So the stupid doctor did blood tests and said I had high levels of estrogen and progestin hormones, and asked outright if I was still on the Pill.
My husband was furious, I'd never seen him like that and it took a lot of work to calm him down and win him around. He did give up on us having a baby, thank goodness, but started having his prissy daughter and her husband over to the house for weekends.
My step-daughter is a stupid little bitch, but her husband is very attractive and very charming. Anyway, one afternoon he and I ended up having sex in the pool-house and my husband walked in on us.
My husband won't be persuaded to forgive me, and he is saying he is divorcing me. What is worrying me is that we signed a prenup that said that if I cheated I get nothing.
I've been mostly faithful for 12 years, and he only caught me out this once. I think he is being ungrateful and unfair. I am now 35 years old and I spent the best years of my life with him. What will I do for a living? Can he really drop me without paying me a cent for all the years I wasted on him?
If you need help or advice, reach out to us, and thousands of women just like you who are struggling with the difficulties of life. You are not alone, we are here for you, and we listen; so write to us anonymously using this form.
Please fill in your e-mail so we can share with you our top stories!