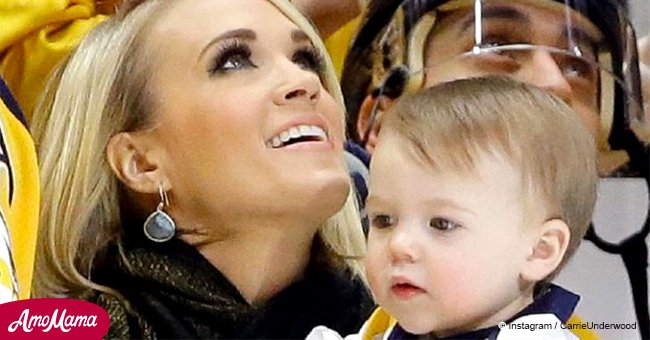 Carrie Underwood shares heartfelt video of son watching her National Anthem performance
Carrie Underwood's fans have seen her perform countless times over, but there was one fan in the audience recently who was experiencing it for the first time.
The 35-year-old singer and mother-of-one performed the Star-Spangled Banner before the Nashville Predators versus Winnipeg Jets match in April.
Underwood's husband of eight years, Mike Fisher, is an ice hockey center for the Predators, and their 3-year-old son, Isaiah, was in the audience to watch his father play.
The toddler was utterly blown away when he heard his mother's rendition of the National Anthem.
The adorable moment was captured by Ivey Childers, a Nashville bakery owner, and Underwood's best friend. Underwood shared the video with her 7.3 million followers.
In the caption, she explained that she had always wanted to make her parents proud. Now a parent herself, she wants her son to be proud of her.
She added that Isaiah hardly ever sees her perform because he is usually in bed by the time she starts a show. However, April 29th was an exception to the rule.
'[...] Last night he was there to watch his daddy play, and he also got to see his mommy sing for a minute.'
Carrie Underwood, Instagram, May 1, 2018.
He was so excited during his mother's performance, the toddler jumped up and down and listened in amazement as his mother sang her heart out.
Underwood has returned to the limelight in full force since she suffered a freak accident at her Nashville home in November 2017.
The award-winning star slipped on her porch while taking her dogs out for a walk. She fractured her wrist and needed more than 40 stitches to her face.
Underwood recovered at home and refrained from appearing in public or uploading close up images of her face. Her first public appearance was at the ACM Awards in April.
Please fill in your e-mail so we can share with you our top stories!