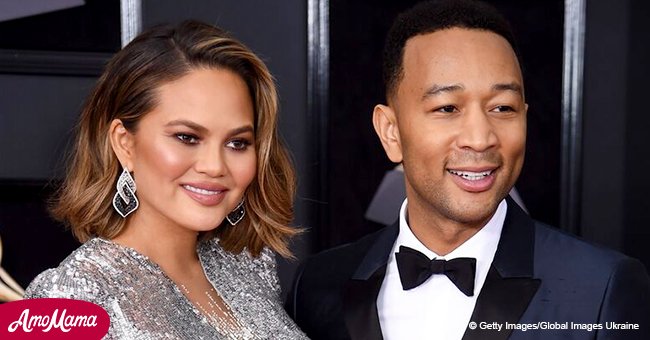 Chrissy Teigen shares first photo of daughter Luna and son Miles together
11 days after her second child was born earlier than expected, the proud mother-of-two shared a cute photo of the siblings for the first time in her social media.
The 32-year-old model, TV host and cookbook author took to Instagram to reveal the first public picture of newborn Miles with his older sister Luna, 2. Teigen captured a heart-melting bonding moment between the siblings.
Luna appears to be doing a great job in her new role as older sister, according to the photo that shows her giving Miles his pacifier while he lies down in his crib, as reported by People.
Teigen captioned the image with a simple red heart emoji marking not only the first time she shared a picture of her two children together but also the second time the world has the chance to see Miles at all.
Three days after announcing the arrival of her baby boy via Twitter without giving any details, the Lyp Synch Battle star introduced her followers to her newborn on her Instagram on May 20.
'Hello, world! This is Miles Theodore Stephens – We are drowning in his little peeps and nuzzles. Our household feels overwhelmed with love,' wrote Teigen.
Little Miles couldn't wait for the expected due date in June, and he rushed to be in his parents' arms mid-May. Before Teigen revealed how her newborn looked like, she shared some details about him on Twitter.
Replying to a fan that asked her if Miles looked like Luna, she said: 'Same nose! He is a few weeks early so he's little and makes the teeniest noises. We are in love.'
The 39-year-old musician John Legend, husband of Teigen and father of Luna and Miles, talked about the meaning behind his second's child name on his first public appearance since the baby's arrival, at the Billboard Music Awards.
'We named our first daughter Luna Simone Stephens; every name we give to our kids I think will have a little bit of musical history to it. So Miles is, of course, is the same name as the great Miles Davis,' Legend said.
Please fill in your e-mail so we can share with you our top stories!