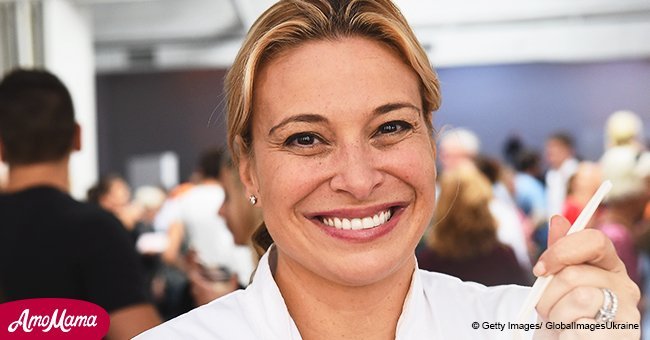 Donatella Arpaia made an unexpected announcement about her pregnancy
The celebrity chef surprised the viewers of The Today Show and her fans with the good news of her second pregnancy after a successful six attempt at in vitro fertilization.
46-year-old restaurateur and TV personality Donatella Arpaia and her husband, cardiac surgeon Allan Stewart will welcome twins in early November, after years of struggling and almost giving up, according to Daily Mail.
Arpaia gave birth to her first child, Alessandro, when she was 40, and after that, it became difficult for her to conceive again. Wanting to keep making her family grow, Arpaia and Stewart spent five years trying IVF without success.
The couple became skeptical and frustrated about the process and decided to take a break from trying to become parents again that way. Arpaia was almost done trying, but she had two conversations that changed her spirit.
As Today reported, Arpaia talked off-screen with co-anchor Hoda Kotb about her trouble with conceiving, and Kotb changed Arpaia's mind about adoption after sharing her own adoption story with her.
'I hadn't expected that Hoda's own happiness would open my heart. That love felt so authentic and that opened my heart to adoption,' she told Today on May 28.
Arpaia was in for an adoption, but with her renewed energies she wanted to try once again and went for another round of IVF.
She wasn't very positive about it, given her age and her many unsuccessful tries, and that's when she had the second conversation that gave her the encouragement and faith she needed.
Her first child, six-year-old Alessandro, reportedly came to his mother one morning to tell her he had a dream on which God revealed to him that Arpaia was going to be pregnant with twins, and they were going to be named Emma and Noah.
This was shocking for Arpaia, who claims never having told Alessandro about her updated plans to have more children. 'We had stopped talking about having children. I didn't want him to be disappointed anymore,' shared Arpaia.
Two months after that, Arpaia received the news from her fertility doctor. Not only she was pregnant once again; she was expecting twins! There is a possibility she will have a boy and a girl.
'I think that if you are meant to have children there are souls out there that are meant to come to you whether they come from IVF or different means or adoption, once you open your heart they will come to you,' she told Today.
Please fill in your e-mail so we can share with you our top stories!