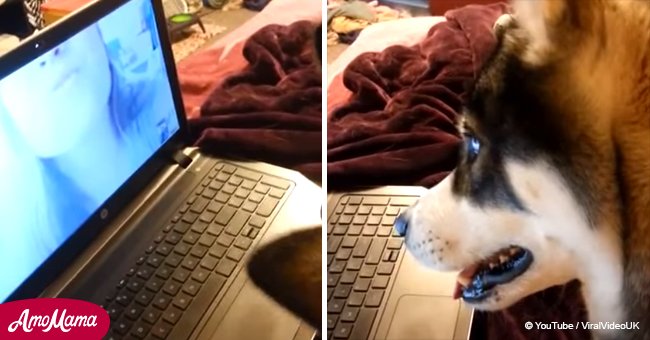 Husky captured on film howling during video call to owner
Dogs are really too precious for this world, which is proved by this sweet pup when he was chatting to his owner.
Every dog-lover on the planet finds it hard to leave home to go on vacation when the pooches have to be left behind. Fortunately, modern technology makes it much easier to check in on the four-legged fur-babies.
This woman was away and had left her gorgeous husky named Loki with a trusted friend. While gone, she decided to make a call to see her favorite little boy, with the use of Skype.
In the adorable video shared to YouTube, the woman can be seen on the laptop screen talking to her pup.
Of course, Loki being a husky, she is't speaking to him as she would another person, but rather she howls at him through the screen!
At first, Loki is confused by what's happening. He can't quite seem to understand why his human is on a computer screen instead of in the house with him where he can lick her and she can scratch his head.
The result is the cutest head-tilt on the planet, with his big ears flicking from side to side as he tries to process what she's doing away from him.
But after a few seconds of her trying to converse with him, he perks up and starts to howl back at her!
Of course, his great howl sends both his human mom and his doggy sitter into fits of giggles as he happily chats back with the computer.
His mom is overwhelmed by the response to her call, and can't help but to call him a good boy as he howls away lying on her bed.
The doggy sitter is equally entertained by the lovely display of affection from Loki, calling the interaction "priceless" from behind the camera.
Please fill in your e-mail so we can share with you our top stories!