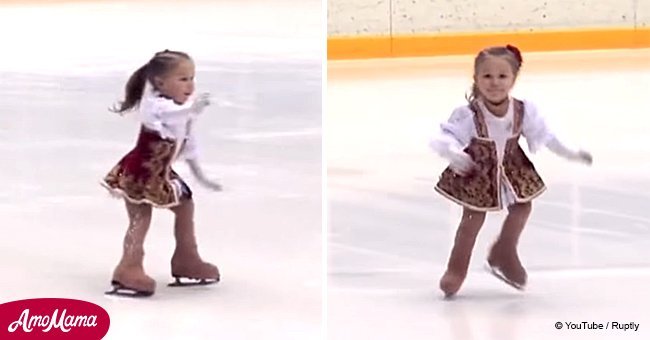 Tiny ice skater performs impressive figure skating routine
She may only have been three years old, but this little girl clearly has big dreams on her mind for her future, and is not going to wait to start realizing them.
Riana Kadyrova started figure skating when she was just 2 years old. A year later, in 2013, she performed an adorable little routine, showing off just how much natural talent she has for her age.
The Russian tot's routine was posted to YouTube, and it's evident that the little girl has all the confidence in the world, and a big grin to boot.
Wearing a maroon dress with gold detailing and puffy long white sleeves, Kadyrova has her hair braided up on top of her head as she takes to the ice.
She is ushered onto the ice, where she takes her spot and strikes a pose as she waits for her music to start. As it does, she immediately begins to move across the ice.
Although it seems as though her legs are way too small to be able to comfortably cross one another as she glides, the little one is nonplussed by her limitations and shows off what abilities she does have.
Throughout the routine, she even performs some difficult moves, including a number of forward spirals and a waltz jump or two.
Kadyrova learnt the skill from her mother, who spent most of her life figure skating.
Clearly, she has a natural born talent for the sport, and the crowd couldn't help but cheer the little girl on when she completed her sweet little routine with a flourish of the arms.
Please fill in your e-mail so we can share with you our top stories!