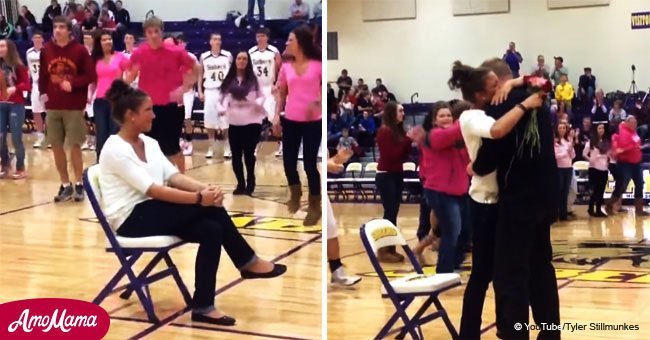 Basketball coach's surprise proposal to girlfriend caught on film
When Hannah was invited down on the basketball court during halftime, she had no idea what was in store for her.
A high school basketball coach planned a unique marriage proposal to his girlfriend, Hannah, by involving several students of his high school team.
Tyler Stillmunkes uploaded a video on YouTube, which shot the entire almost 3-minutes-long spectacle of the coach's proposal to his girlfriend.
The video begins in the high school's basketball court with the announcer inviting Hannah on to the center of the court. There a chair has been arranged for her to sit on.
Then, just as the music begins to play, the high school students start dancing in front of Hannah, who suddenly becomes emotional by the realization that the song to which they are dancing is Marry You by Bruno Mars.
Hannah gets the first hint of a marriage proposal when the lyrics of the song say the words, "I think I wanna marry you." She quickly covers her mouth unable to contain her emotions.
The choreographed dance sequence continues before the students make way for the high school basketball team players. They approach Hannah in groups of 2 to 3 and hand her roses.
Finally, the students make way and the coach himself makes his grand entrance. He walks up to Hannah, gets down on one knee, and offers her the ring.
As Hannah embraces the coach accepting his proposal, the entire audiences at the basketball court applaud and cheer the couple during their special moment.
Please fill in your e-mail so we can share with you our top stories!