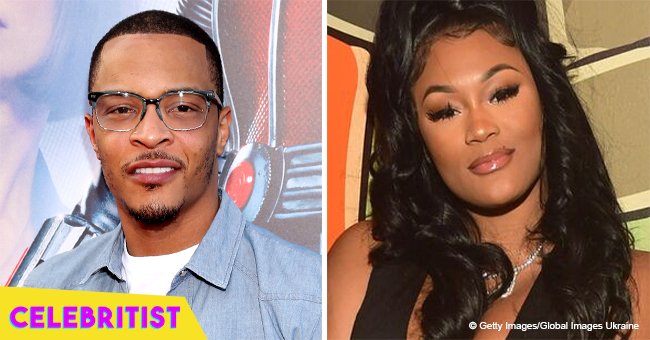 Bernice Burgos rocks blonde locks and skin-tight nude jumpsuit in recent picture
The hot new grandmother showcases her curves in a figure hugging suit that leaves not much to the imagination.
Bernice Burgos made quite an impression on Memorial Day when she posted a photo of her curvaceous body clad in a skin-tight nude overall and sporting a blonde do.
The 37-year-old who recently became a grandmother was anything but one as she displayed her hourglass figure in a sexy, imagination-stirring ensemble. The color of what she described as her "Happy Memorial Day outfit" in her caption blended perfectly with her skin tone making her appear naked in the outdoor pic. She held a red cap in one hand and sported Gucci sneakers while a huge necklace carrying her monogram dangled from her neck.
Bernice, also T.I.'s former girlfriend, welcomed her first grandchild, India in March but that didn't stop her from parading her body in a yellow bikini around the time of her granddaughter's birth. She posted a series of photos as she soaked in the sun in Los Angeles, earning criticisms from fans for being out and about while her daughter just welcomed a baby. One commenter said,
"Your daughter had a baby, u in LA chasing rappers her age!!! SAD.YOUR ALREADY A TERRIBLE GRANDMA."
Undoubtedly one of the hottest grandmas in town, the former bartender became a mother to India's mother Ashley when she was only 15. She told The Breakfast Club that Ashley's father was a 19-year-old who was in and out of jail.
When Ashley's pregnancy came to light and fans criticized her for being with child at 21, Bernice came to her daughter's rescue and defended her in her Instagram story. Confirming speculation that her daughter was expecting, she also declared her full support.
"Service announcement. Let me let y'all haters know – the people that support me, I love y'all. But let me tell you something. My daughter, she's already 21, she's happy and whatever decisions she decides that she wants to do, I'm there for her.
"At the end of the day I had her at the age of 15. I was a young mum and now I'm going to be a young grandmother and I'm going to be a bad grandmother. I love her to death. Ashley, don't worry about these f*****g haters.
"We was trying to keep it as a secret 'cause sometimes you've got to keep your personal business private, just for us, just for the family. But y'all people talking so much gossip and so much bulls**t that y'all ain't got nothing else to do. She's good though, we all good."
Whoever said Bernice was a bad grandmother must have gotten it wrong. She's actually a badass grandmother.
Please fill in your e-mail so we can share with you our top stories!