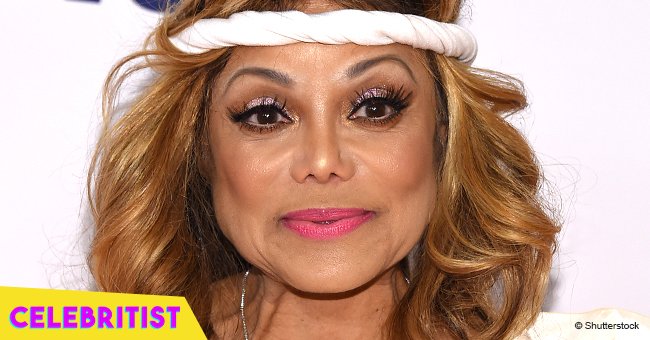 LaToya Jackson flaunts tiny waist in pink blouse and skintight trousers on her 62nd birthday
LaToya Jackson is still a head turner at 62-years-old, making an appearance at West Hollywood showcasing her tiny waist and flat stomach in a silky pink blouse and skintight jeans.
Arriving at Craig's restaurant on Tuesday, LaToya looked absolutely stunning in her bright ensemble. Accenting her blouse and leggings were a waist-hugging belt and a pair of black knee-high boots.
She drew much attention in the swanky celebrity favorite restaurant in her bright outfit that showed off a bit of her cleavage. She accessorized her look with some silver jewelry, including a large heart-shaped diamond pendant on her neck.
On Instagram, the beautiful birthday celebrant shared a photo of their table, as she smiled alongside her friends.
"Having a wonderful birthday dinner with my friends @brendahrichie @nancypeaceandlove @davisknoll1 and Lynn. Birthday #fun #love #life #friends"
Recently, LaToya revealed that she still gets messages from her late brother Michael, who died in 2009 at 50-years-old. As the two siblings were extremely close, she knows that her brother visits her once in a while.
In an interview with E! News, she says that sometimes, the lights would flicker when Michael is around.
"That's him. I know it's not the bulb. They're flickering. So when that happens that means he's around."
Jackson claims that the family had many unanswered questions about their brother, and with the help of Hollywood Medium Tyler Henry, she revealed that she was able to get the closure that she needed.
"Tyler answered [the questions] for me. He came through really well which was great. I had questions in my head, but before I could even ask Tyler the questions he was giving me answers to them and he didn't even realize he was doing that. It was just everything I wanted to know. Tyler was there to deliver it to me."
Latoya is the fifth born child of Joe and Katherine Jackson in 1956, while Michael was the eighth, born in 1958. The songstress was married from 1989 to 1997 to Jack Gordon, an entertainment manager, but their relationship bore no children.
Please fill in your e-mail so we can share with you our top stories!