Paris Jackson stuns in wine red dress with thigh-high slit in pic with her 'family'
The actress continues to spark intrigue revolving her family as she shares a pic of the people she considers her "family".
She's been hounded by issues relating to her family, often times accused of disappointing them.  But Paris Jackson recently revealed who here real family is, following a recent incident where she defends herself from claims she snubbed her aunt Janet Jackson's Billboard Music Awards tribute.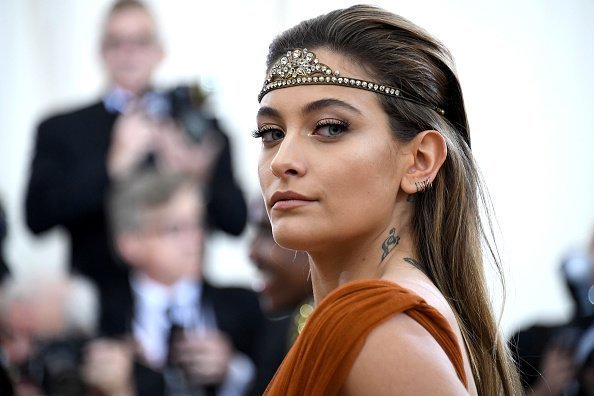 The daughter of Michael Jackson has introduced the people she considers her family in a recent post she shared on her Instagram. Posing alongside five other young men and women she didn't name, the 19-year-old revealed how special they were in her life in her caption.  
"This is my family. the people that make me truly feel comfortable being myself. the homies i can always count on to be honest with me whether it's positive or negative. i'm so fucking grateful for them. and also.... if you've seen my tramp stamp well these dudes are the reason i got it. thank you guys for the couches to sleep on, the shoulders to cry on, the jokes to laugh to, the love and the light, everything. i'm keeping you forever. we're just missing rio... #familyreunion"
Looking fabulous in a wine red dress, Paris showcased her slender legs through her mid-length frock's thigh-high slit.  She struck a pose with one leg bent proving she's also a model apart from being an actress and singer. 
The young heiress' post comes in the heels of her recent Instagram Story outburst where she defended herself against those judging her for missing her aunt Janet's Billboard Music Awards stint where she was honored with the Billboard Icon Award. Clarifying her absence, the young actress slammed her critics for interfering with her family business that should be of no concern to them. 
"Dear social media followers, friends, stalkers, lovers and haters, and fellow moonwalkers: Please do not tell me/demands/try to control how I handle my relationship with the people in my life, specifically my family."
"As amazing and as s—-y as things can be, it is no one's business but ours. I understand that some of you feel some sort of connection or need to be a part of our lives considering you watched us grow up. However, I am handling my situation exactly how my father did. And I am happy keeping it that way. I will always have love and respect for my family. ALWAYS."
"Every family has their moments of trauma, heartbreak, separation, love, oneness, tribe, pain, everything. EVERY FAMILY. My family, specifically, and a good number of others…well, our drama is broadcasted worldwide through media. But that doesn't mean our family issues are any different from yours. Ours are just made public."
"Every level has another devil. Every life has their own s–t to deal with. We ain't inferior or superior to y'all. We're all f–king human. So let's act like it. I appreciate any and every person reading this and I'm grateful for everything in my life, positive and negative."
.@ParisJackson's response doesn't exactly clear up the matterhttps://t.co/Pq8pElGQgQ

— HotNewHipHop (@HotNewHipHop) May 22, 2018
Addressing the issue of her absence from the Billboard Music Awards, this is what she had to say, 
"Also not to mention, no one from my mgmt [management] reached out to me about attending billboards or about the award, and no one from my family did either. 'I had absolutely no idea until y'all spammed me with hatred."
Now it appears Paris is fanning more flame to her family drama as she seemingly throws shade at them in her latest post.