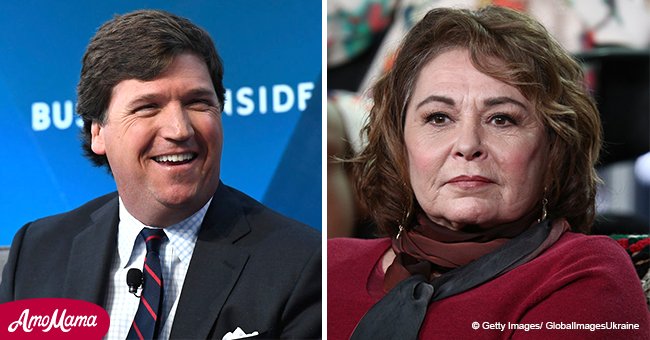 'Fox News' Tucker Carlson compared 'Roseanne' cancellation to book-burnings
On Tuesday Tucker Carlson, a Fox News host shared his opinions on the Roseanne show cancellation. He appeared to be likening the cancellation to book-burnings.
Carlson was one of many people who've given their opinions on the matter. On his show, he shared his opinion on the recent cancellation of Roseanne in a somewhat cryptic manner.
Roseanne Barr's racist tweets about former Barack Obama aide Valerie Jarrett resulted in ABC canceling the show. Barr called Jarrett a result of Muslim Brotherhood and Planet of the Apes coming together.
The actress' co-stars quickly denounced her statement. Her controversial tweet then led ABC Entertainment President Channing Dungey to announce that the series had been axed.
In a brief press statement, she said, 'Roseanne's Twitter statement is abhorrent, repugnant and inconsistent with our values, and we have decided to cancel her show.' Disney CEO Bob Iger retweeted Dungey's statement and added, 'There was only one thing to do here, and that was the right thing.'
Barr apologized to Jarrett and the American people for her tweet but it was too little too late. Despite many people agreeing with ABC for their decisiveness, others felt that the cancellation was a severe punishment.
"Roseanne was also fired by her talent agency, already old episodes of that show have been yanked offline and disappeared forever."
Tucker Carlson, Twitter, May 30, 2018
A video of Carson's segment was shared by a viewer on Twitter who noticed that the host appeared to be comparing the cancellation to Nazis burning books. On his show, Carlson related that Barr's old Roseanne episodes had been removed offline.
He added, "It's possible they'll be burned somewhere in a public bonfire so the rest of us can gather in our uniforms and chant slogans while that happens..."
Another public figure who spoke up about the cancellation was the show's executive producer according to Deadline. Tom Werner said in a statement that he supported ABC's decision on the show's future.
He shared that Barr's tweets were reprehensible. Werner explained that their goal had been to promote constructive discussion about issues that divide us as a people.
He added that his hope was that the good work they'd done was not completely eclipsed by Barr's abhorrent and offensive comments. The executive producer concluded his statement by saying he wished for the actress to seek the help she clearly needed.
Please fill in your e-mail so we can share with you our top stories!