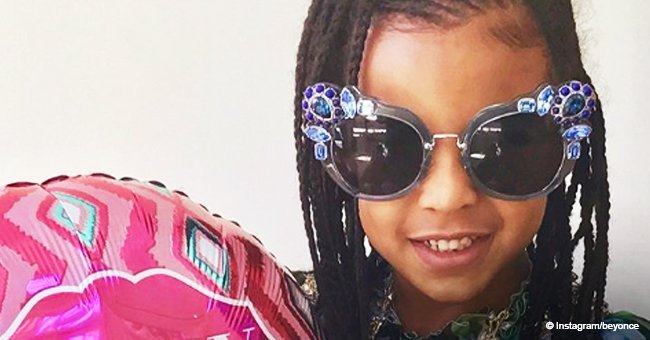 Blue Ivy rocks braids and embellished outfit while stepping out with grandma in Paris
Being Blue Ivy is a lot of hard work. You are responsible for keeping everyone in check, including your famous parents and your grandma when she tries to break the rules. The young lady was once again in the spotlight for asking her grandma to observe the rules on a recent outing.
Blue Ivy Carter is one tough little lady. At the ballet in Paris with her grandmother in a recent trip, the very sophisticated six-year-old was not amused at her Tina Lawson recording a video. In the background, she can be heard reprimanding Tina for breaking the rules.
An excited Tina recorded the video of the beautiful theater to share with her Instagram fans, which she reports; "I'm in Paris, France, and I'm at the most beautiful theater I've ever seen in my life." She takes different angles of the theater which is actually gorgeous and full of red velvet and gold baroque details. As she angles her camera to show the beauty and architecture of the building, Blue Ivy can be heard in the background saying; "You're not supposed to take videos, Grandma. You're not supposed to!"
Well, Tina knows all too well that she is breaking the rules seeing as her caption is; "When you are trying to sneak a video"
This is not the first time Blue Ivy is asserting her authority. In the 2018 Grammys, she was caught in video shushing her parents; JAY-Z and Beyoncé, who were clapping at Camila Cabello.
She knows how to stand her ground too when she needs to. Jay-Z was on the receiving end of it when he tried to boss his daughter one morning. "I told her to get in the car the other day because she was asking a thousand questions and we had to leave for school. So we're driving, and then I just hear a little voice. 'Dad?' I turn around and she said, 'I didn't like when you told me to get in the car the way you told me... it hurt my feelings.'"
Impressed, her dad told her that was "the most beautiful thing you've ever said to me."
So, next time you are in Blue Ivy's presence, mind your manners and words.
Please fill in your e-mail so we can share with you our top stories!