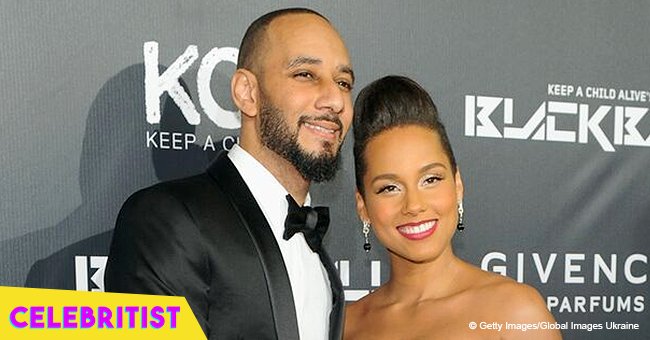 Swizz Beatz shares video of 3-year-old son washing his own car
Record producer Swizz Beatz is the proud father of five kids, two of them with wife Alicia Keys, and their youngest is stealing hearts on social media with his adorableness. Beatz recently shared a video of the little boy showing off his own car, after proving that at his age, he can already drop some beats.
Celebritist gathered from The Shade Room a clip that was uploaded on Swizz Beatz's Instagram stories a day ago and that is making his and Alicia Keys' fans melt over the cuteness of their three-year-old son, Genesis.
In the video, the proud father recorded little Genesis while he washed his own car enthusiastically, a mini black all-electric version of the GMC Sierra Denali truck, valued at $450. Beatz, whose real name is Kaseem Dean, asks his boy what is he doing, to which Genesis answers as if it wasn't obvious "Washing my car" while spreading more soap onto the mini vehicle.
Fans praised Dean on the comments for teaching his kid to be responsible for his stuff at such a young age, as they mentioned that even adults can be lazy sometimes when it comes to the cleaning of their cars.
Genesis sure has a great example to follow in both of his parents, and he's already developing his innate talents for music, as shown in another video shared by his father last year. In the short clip, the boy, who was 2 at the time, shows off his abilities in beatboxing, and Beat couldn't be prouder of his son's talent, writing in his caption:
"In the middle of my #NoCommissionShanghai Genesis wanted me to hear his new beat 1234567."
Genesis is not the only one following his parents' steps. In fact, his older brother, Egypt, made his debut as a producer in 2016 at 5-years-old, when it was revealed he shares credits on Kendrick Lamar's project, "Untitled Unmastered." The boy created a synth break between two distinct parts of the song "Untitled 07 | 2014 – 2016," a melody he came up with all by himself.
Alicia and Swizz released a statement expressing how proud they are of their son, that said:
"As parents of creative children, this is an amazing day in music. We have always encouraged Egypt to create the music he feels, and as much as he has fun with it, he works very hard and is always practicing. There are so many talented kids in the world, and we admire Kendrick for supporting the next generation of amazing artists. May we always cultivate and support the dreams of our children."
Genesis and Egypt have all the tools and talent they need to keep the family business alive for the next generation, and we're glad to know their parents are encouraging and supporting them while they learn and start to develop their abilities.
We can't wait to hear more of these adorable kids in the future.
Please fill in your e-mail so we can share with you our top stories!