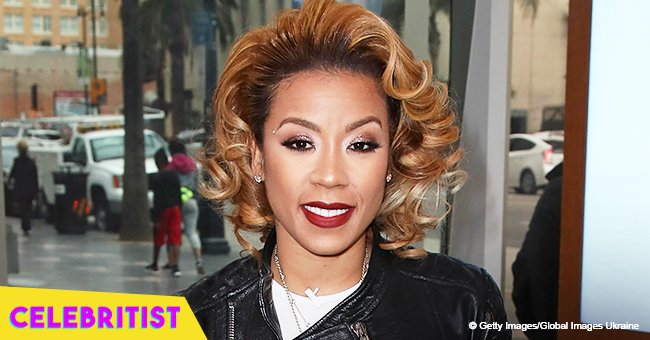 Keyshia Cole and her much younger boyfriend enjoy a romantic date in recent photo
"Love & Hip Hop: Hollywood"star Keyshia Cole surprised fans last month after she went public with her new much younger boyfriend. The lucky guy is a rapper and recording artist that goes under the name Niko Khale, and the reaction from the media and fans has been mixed about their relationship.
Celebritist was lurking around Instagram we stumbled with a lovely photo that has Keyshia's and Niko's fans over the moon, as the couple shows off their chemistry and good looks while out in a romantic date.
Keyshia divorced from former NBA player Daniel Gibson last year after six years of marriage and a child, and she was focused on making her big comeback to the music scene as she joined the cast of "Love & Hip Hop: Hollywood."
However, there were rumors among fans about Keyshia dating someone new, but no one was expecting the singer to introduce a 22-years-old man as her new boyfriend. She first admitted that she was dating someone in an interview at the Breakfast Club radio show, saying:
"Yeah. I mean, sorta yeah. There is somebody but it's a slow kinda procedure with the whole getting to know each other thing and it takes time. People make mistakes and learn."
A few months later, Niko and she were caught celebrating his mother's birthday, and they have been flaunting their teenage dream kind of love on social media since then.
Niko recently shared a "couple goals" photo where he and Keyshia are sharing some ice cream in front of a store, and they look amazing together. He wrote in the caption:
"You should get what you deserve more / Butterflies in my belly, shit remind me of my first tour."
The fans' reactions to Keyshia and Niko's relationship has been mixed. While some support them and think they do a good-looking couple and Niko is just what Keyshia needs, others are bothered by the age difference since Cole is 36 and Khale is 22.
We believe only Keyshia knows what's good for her, and if she found love again on a much younger guy, we're no one to judge her decisions. After all, they do make a cute couple.
Please fill in your e-mail so we can share with you our top stories!