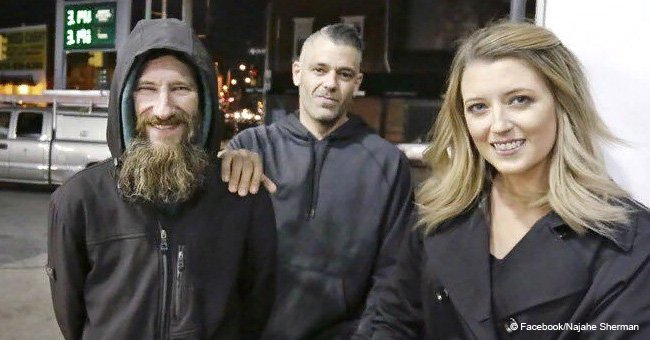 Homeless man received more than $300 thousand for helping woman in need
The homeless man gave his last money to the woman who had car trouble for gas. She repaid his kindness by setting up a GoFundMe page for him and they raised more than $300,000.
Kate McClure ran out of gas in the middle of the night as she drove into Philadelphia on southbound I-95 to give her friend a visit. She called her boyfriend, Mark D'Amico, to come and get her since she was alone and it was around 11 p.m.
Suddenly, a homeless man came up to her and told her to lock her doors and wait for him. He said he was going to spend his last $20 to buy gas for her.
After ten minutes, the homeless man came back with a container filled with gas.
Since McClure did not bring any money with her, she promised the man that she would come back to repay him.
The next day, the couple drove by and thanked the man, whose name is Johnny Bobbitt, Jr., and repaid him.
They continued to come back to help Bobbitt and eventually got to know him. They learned that he was an ammunition technician in the Marines and he aspired to be a doctor.
As revealed in Philly, he became homeless in Philadelphia in 2016 after he became broke and got addicted to illegal substances.
D'Amico and McClure were in awe of Bobbitt for he took full responsibility for how he got into his situation. He said he never blamed anybody but himself. The couple also admired him for the way he cared for two other homeless men who were living under a bridge. They were his friends.
One day, the pair decided to give Bobbitt more than just cash. D'Amico gave him winter clothes and they brought him some basic supplies at Target. They placed everything in a backpack and gave it to Bobbitt. D'Amico and McClure also handed him a blanket and two $10 Wawa gift cards.
D'Amico recalled that Bobbitt was very excited when they gave him all the stuff they brought. He was very delighted that he told the couple that he was going to Wawa right away to buy dinner.
What struck the couple most was that Bobbitt told them that he was going to share their gifts with his two friends
The couple realized that they wanted to change Bobbitt's life. They knew he deserved it. Then, D'Amico and McClure decided to create a GoFundMe page for Bobbitt.
They initially had a $10,000 goal but they were shocked when they had raised more than $300,000 for him which came from over 11,000 donors.
D'Amico and McClure clarified that they were going to handle all the donations they gathered. They said they were going to get him an apartment and they will be the ones to pay for his food, clothing, phone, and transportation. Bobbitt will also be given an allowance.
The once-homeless Bobbitt was very grateful for the help he received from the couple.
According to McClure, Bobbitt told them at the time that he wanted to live in Robbinsville, New Jersey and work at the Amazon warehouse because the company gives great health benefits to its employees.
Please fill in your e-mail so we can share with you our top stories!