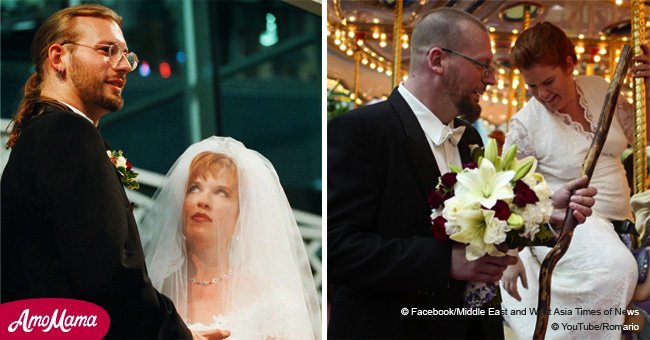 Husband of famous arranged-marriage couple died after almost 20 years together
David Weinlick, whose marriage to Elizabeth Runze propelled them to the limelight, passed away ending the 'greatest love story.'
Star Tribune reported that Weinlick died on May 17, 2018, after he was diagnosed with colon cancer last year.
The love story began nearly two decades ago when Weinlick's friends picked his bride and the couple married five minutes later in the Mall of America. The couple said "I do" in the mall's massive rotunda.
His wife said that she was involved with "the greatest love story" of her life. Weinlick was battling cancer and was 48 at the time of his death.
The unconventional way of finding a bride began with a joke, a long time ago. Weinlick was tired of being asked when he would settle down. His reply was June 13, 1998.
The date was fast approaching but he had no one in mind. That is when a longtime friend and the current Minneapolis City Council member, Steve Fletcher, had an idea. Weinlick agreed to the arranged-marriage process.
Friends issued news releases, recorded a commercial, and placed an ad in the Minnesota Daily. There were quite a few critics who said that the marriage would not last.
At the time, groom-in-waiting said, "I think love develops. It's not just there."
Of the hundreds of women who applied, Bethy Runze was chosen to be his bride. Family and friends were joyed at the match.
The two were strong and "filled each other's weaknesses." He was an energetic extrovert and she was an introvert who prefers a good book and a nap. Perhaps, the opposites attracted.
Runze said that her husband understood her like nobody else and she understood him. Life had its ups and downs, but their marriage didn't and they were happy in each other's company.
The mother-of-four described him as funny, optimist, and larger than life. "He kind of sucked people in and became a hub of love and energy," she added.
The family spent an uncertain year after Weinlick was diagnosed with terminal cancer. Runze said she did not know if it was going to be the last Fourth of July or the last Thanksgiving.
She held her husband during the last eight hours of his life. She has some important lessons for their children, aged 16, 15, 12, and nine.
She tells them that there could be times when they are drawn to a person, a situation, or an experience, though one may not be aware of why it is pulling you in. However, it is important to recognize those moments and the adventure will reveal itself.
Please fill in your e-mail so we can share with you our top stories!