Mariska Hargitay shares photo taken with former co-star Christopher Meloni
The two former co-stars Mariska Hargitay and Christopher Meloni teased fans recently with a photo. In the image, the two actors were seen smiling together.
The Instagram pictures appeared to have been taken when the pair bumped into each other in New York City. Fans were reminded again how good the two had been on Law & Order: Special Victims Unit (SVU).
Mariska Hargitay and Christopher Meloni reunited on Wednesday for a pair of new photos. The two had once starred together on Law & Order: Special Victims Unit (SVU) as Stabler and Benson.
Hargitay posted a gallery of three images on Instagram to celebrate the reunion. The first was just a fun selfie, but she hinted to fans, 'Wanna see why I'm so #Happy swipensee.'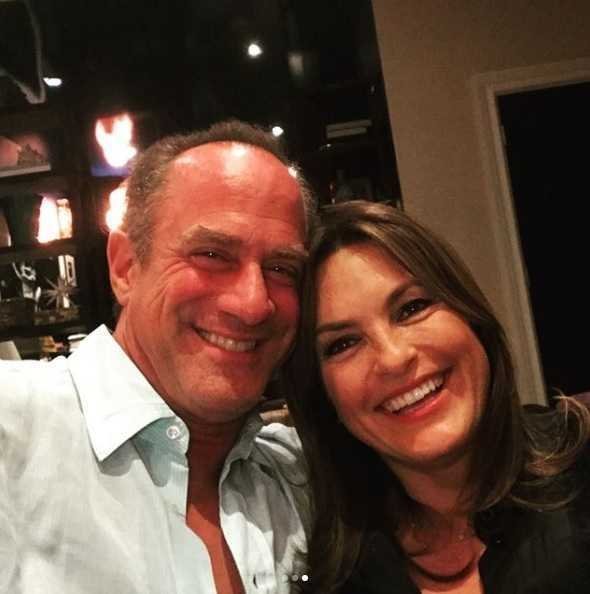 The next two images were selfies with Meloni. He also posted his own photo, cutting off his own forehead and writing, 'Crazy [people] on the streets of [NYC].'
The #Happy in Hargitay's caption was a reference to Meloni's current series. He acts on SyFy's Happy!, which sees him playing a hitman who befriends his kidnapped daughter's imaginary friend.
Fans couldn't help but feel nostalgic seeing the two together. Meloni left SVU in 2011, at the end of season 12.
The series will be starting its historic 20th season in the fall. SVU, Gunsmoke, and the original Law & Order are the longest-running primetime TV dramas in TV history.
Fans never forgot how Stabler didn't get a proper send-off. They also still hold the hope that he'll one day come back to the series.
In 2016, that dream almost came to true. According to The Hollywood Reporter, just before SVU was picked up for season 18, then-showrunner Warren Leight shared that they'd written a series finale where Stabler, Munch (Richard Belzer) and Amaro (Danny Pino) would all come back.
Unfortunately, that series finale idea was discarded. Leight confessed later that he felt they could've handled Stabler's departure better.
In recent years, Meloni has said he would be open to coming back to the show. He told Entertainment Tonight in April 2017 that if the circumstances were right he would go back.
Meloni admitted that he hadn't been approached about it and therefore it was out of his hands. The show was recently picked up for a second season.
Season 20 of SVU will start this fall on Thursdays at 10 p.m. ET on NBC.