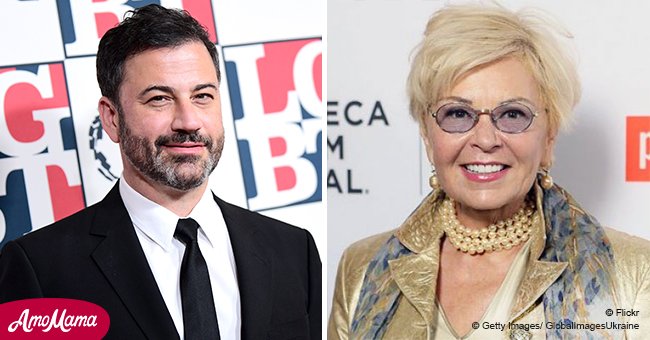 Jimmy Kimmel expresses his compassion for Roseanne Barr amid ABC cancellation drama

Jimmy Kimmel got involved in the controversy around the cancellation of Roseanne following the racist tweet posted by the sitcom's creator. His call for compassion for Roseanne Barr wasn't well received by everybody.
The 50-year-old late-night talk show host took to Twitter to comment on the issue, tagging Barr in a tweet that tried to lower the tensions and hostilities against the 65-year-old actress and comedian, citing the latter's alleged mental health issues.
'What @TheRealRoseanne said is indefensible, but angrily attacking a woman who is obviously not well does no good for anyone. Please take a breath and remember that mental health issues are real,' wrote Kimmel.
'The Roseanne I know could probably use some compassion and help right now,' he added.
As Fox News reported, Kimmel had both Barr and her co-star John Goodman as guests to Jimmy Kimmel Live! back in March, before the highly anticipated reboot premiered, and he seems to be good-willed towards the show and stars.
Although Kimmel clearly wasn't condoning Barr's indulgence in offensive remarks, his good intended tweet backfired, with several users criticizing him for his opinion regarding how Barr was being treated in social media.
One user wrote: 'With this tweet, you're furthering the "Hollywood elites stick together" narrative. There are plenty of good people who deserve compassion; she is not one of them and has proven that for years.'
'Mental health is not an excuse for the vile things she has and continues, even today, to retweet,' wrote another user.
The fact that Kimmel talked about mental health as a sort of explanation for what Barr wrote enraged some users who didn't think he was qualified to make that claim.
'Calling someone mentally ill, without a medical degree, is reprehensible to me. As someone with mental illness, I am offended to the core for your lack of understanding,' wrote another user.
But apparently not everybody disagreed with Kimmel's tweet, as it got more than 25.000 'likes,' with even actress Andie MacDowell joining the conversation.
'The cream rises to the top with empathy and compassion. Two wrongs don't make a right. I hear you. What had to happen happened. No need to be cruel,' wrote MacDowell.
Please fill in your e-mail so we can share with you our top stories!