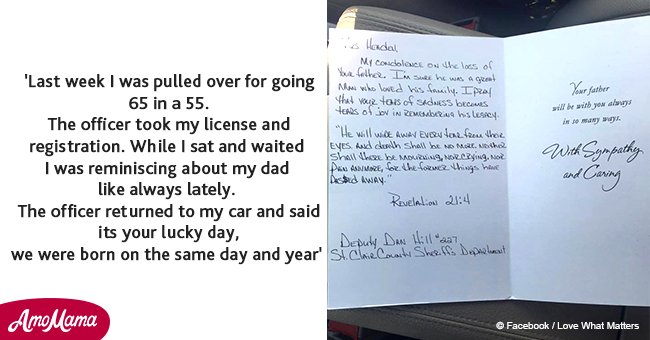 Grieving woman pulled over for speeding. One week later, she gets unexpected mail from police
A law enforcement officer from St. Clair County, Michigan, proved that he had a great heart under his uniform with an act of kindness towards a stranger when she most needed it.
A woman named Gina Penny-Headen was pulled over by a policeman because she was driving past the speed limit. She was going through a very difficult moment and wasn't thinking straight.
She was lucky enough to run into an officer sensitive enough to feel empathy and show her the support and understanding that she needed. And as Bored Daddy reported, this man's kindness didn't end there.
The officer asked the woman for her license and registration. The officer went back to his patrol car to check the documents. Meanwhile, all that Penny-Headen could do was thinking about her father, as she always did those days.
When the officer, named Dan Hill, returned to her car, he told her that it was her lucky day because he noticed the two shared the same day and year of birth, so he decided to let her go. He advised her to slow down and wished her a good day.
'I smiled and said thank you. He walked away and I broke down and started crying, thinking he was back in his car,' Penny-Headen wrote.
But the officer was still near and he tapped on the window to ask her if she was all right. She revealed to him that she was sad because her father had died very recently.
The officer talked to her for a minute to comfort her and calm her, asking her to breathe. He then helped her back into traffic.
Weeks after the incident, Penny-Headen couldn't believe what she found in the mail. She received a beautiful card in the mail, signed by the kind policeman who was so supportive back then. This is what he wrote:
'My condolence on the loss of your father. I'm sure he was a great man who loved his family. I pray that your tears of sadness become tears of joy in remembering his legacy.'
'He will wipe away every tear from their eyes, and death shall be no more. Neither shall there be mourning, nor crying, nor pain anymore; for the former things have passed away.
Deputy Dan Hill #227St. Clair County Sheriff's Department'
Please fill in your e-mail so we can share with you our top stories!