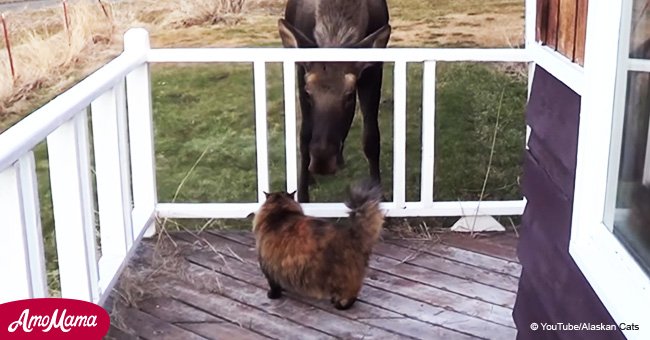 Curious moose tries to befriend 'scaredy cat' but gets too close for comfort
Ginger, the avid moose-watcher, piqued the interest of a moose in the video and ended up getting almost kissed.
The Alaskan Cat recorded the video in Homer, Alaska, and shared it on YouTube on April 12, 2016.
The video beings with Ginger the cat keenly watching a local moose as it is grazing. The cat is wagging its tail as it watches the animal with interest.
The channel revealed that the "silly cat" has been trying to make friends with the local moose.
The cat goes closer to the animal still keeping an eye. The moose notices the cat watching it and decides to walk towards it.
The cat is on the grass while the moose stands close to it, probably thinking of its next steps carefully.
It comes close to Ginger, but the cat, apparently not quite ready for a face to face yet, jumps on to the porch. When it is at a safe distance, it watches the animal with curiosity.
The moose, not the one to give up easily, puts its head through the railings in an attempt to kiss the cat.
When Ginger is down on the grass again, the moose notices the cat and gives it another try. The channel revealed that the moose was not successful in its attempts.
The video is just over two minutes and was shot on March 24, 2016, in Alaska.
The channel uploaded another video on Mach 8, this year. The winter did not seem to deter Ginger or it engages in an intense stare-off with a little moose.
The cat is on the grass this time, still watching the moose. Its interest in the animal does not seem to have diminished.
The two animals are standing close to one another and stare at the other for a long time. Though the cat seems a little tentative, the moose decides to walk away.
Please fill in your e-mail so we can share with you our top stories!