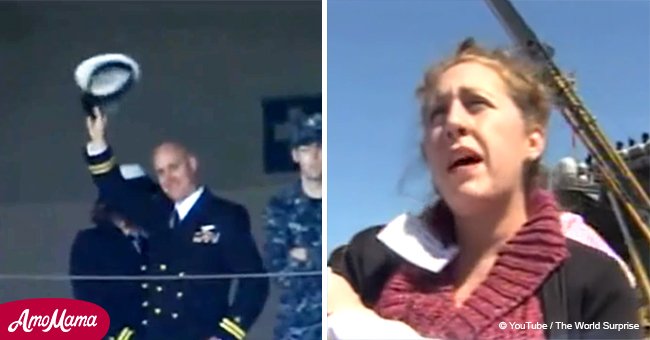 'He's perfect. Thank you': Navy dad's reaction when he sees his newborn son for the first time
After being away for a long time, Lt. Michael Lemmons came back home to meet his newborn son for the first time.
When the USS John C. Stennis pulled into the Naval Station in Bremerton, Washington, Lemmons and 27 of his fellow crew members were waiting eagerly to return home so they could see their family again and meet their newborn children.
After an eight-month deployment, they all wanted to look into the eyes of the new addition to their brood.
Lemmons ran to meet his wife as soon as he recognized her. There, in her arms, was their very handsome newborn child.
The navy father was so overwhelmed. He could not help but blurt out his thoughts. Looking right into his wife's eyes, he said, "He's perfect. Thank you." The couple then shared a kiss.
Lemmons wanted to show his appreciation toward his wife for holding down the house. He knew that it's hard to raise a newborn by herself.
The wife couldn't hold back her tears when she heard Lemmons express his gratitude.
She knew how difficult his job was overseas and this moment was everything she dreamed of during the times that he was away.
The couple held each other in their arms with their baby between them.
Lemmons' reunion with the precious new addition to his family was captured on film. The heartwarming video was published on YouTube by The World Surprise on January 4, 2014.
The video was titled 'Navy Dad Meeting Newborn for First Time Says Something His Wife Will Never Forget.' It has already been viewed more than 384,000 times since it was posted.
Many YouTubers also liked the video and placed their thoughts via comments.
'I don't think what the guy in this video said was so great. I actually think the "You baked us a good baby, honey," is better,' Gamergirl4Jesus wrote. 'When women are pregnant, there's a saying that says she has a bun in the oven. So baked us a good baby makes sense to me. I'm a woman, by the way. '
Please fill in your e-mail so we can share with you our top stories!