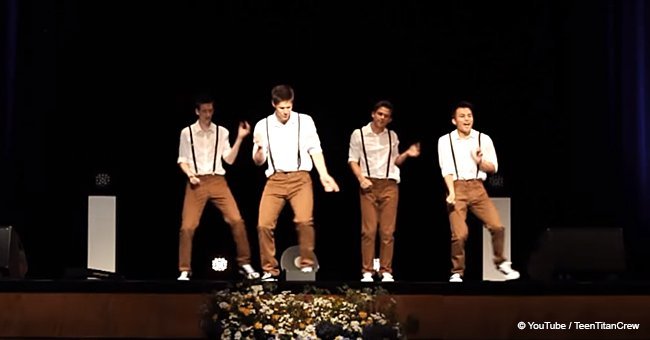 4 teens surprise audience with their moves when 60's song suddenly changes
These 4 teen boys danced along to 60s classic. Now watch their moves when the music quickly changes.
Shared by TeenTitanCrew on July 18, 2013, the YouTube video captured the group of students perform dances from the 1960s, 1970s, 1980s, and beyond.
In the viral video that was filmed on their prom night, the 4 teens are seen wearing matching brown pants, white shirts, and suspenders.
It seemed that they were going to make a fashion show, but they were actually there to give a special performance for their classmates.
At first, they began to dance to the familiar opening notes of Ben E. King's classic song, Stand by Me.
But after just a minute of dancing to the song, the music suddenly changed to Let's Twist Again by Chubby Checker
The boys continued to dance, but in just a few moments, the music changes again. They have new dance moves for each new song being played.
The teens were able to perform an excellent choreographed routine to songs throughout numerous decades, the 60s, 70s, 80s, and more.
Looking at their smiles, it's clear that they're enjoying every single moment of their performance.
Their classmates also groove right along with them as they were bouncing, twirling, and flipping all over the stage
The amazing video has been viewed more than 2.4 million views since it was posted. A lot of YouTubers also placed their thoughts via comments.
Ali B wrote: 'Great job guys. It looks like great fun and you clearly know what you're doing. Since I can't dance to save my life I'll sit back and admire instead.'
The 4 teens' performance, called "New Evolution of Dance," is actually a remake of a similar video called "Evolution of Dance," which was one of the first-ever viral videos on YouTube.
The "Evolution of Dance" was uploaded by dancer Jason Laipply in 2001. In that clip, Laipply performed dance styles to various songs that have come and gone in the past 5 decades.
Please fill in your e-mail so we can share with you our top stories!