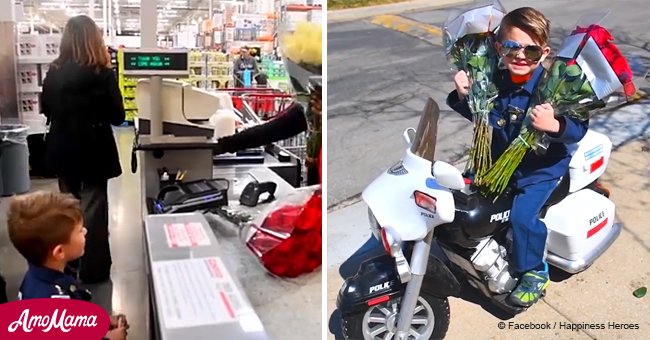 Video of boy buying roses with his own money for special deliveries has gone viral
Oliver Davis purchased roses at a store with his own money for a heartwarming delivery. His simple act of kindness has captured the heart of the internet.
Shared by the Facebook page Happiness Heroes two months ago, the viral video has caught the moment Oliver, 5, used his allowance to buy flowers for the seniors.
In the clip, Oliver, from Overland Park, Kansas, can be heard saying, "I just want to make somebody smile."
Along with a card, he hands a rose to each elderly person.
The card reads: 'You have received a ticket for being too cute!'
In return, Oliver receives hugs and smiles from the seniors who really appreciate his little acts of kindness.
According to The Kansas City Star, Oliver's mission to perform good deeds started with a simple request.
In December 2015, the little boy's wish for Christmas was a police officer uniform.
His mother, Brandi Davis, thought that her son's wish seemed to come out of nowhere because there are no police officers in their family.
However, Oliver received that blue uniform, which he wore every day, even to preschool.
Brandi also bought a kiddie-sized police motorcycle on Craigslist for him.
Oliver told his mother that he also wants to help other people just like a real policeman.
The proud mother then came up with a plan for her son. She suggested that he visits local nursing homes and hand out flowers to the residents.
"He said it makes him real happy to pass out the flowers," Brandi told The Kansas City Star. "I think he loves showing off his bike. He loves doing tricks for them."
Oliver earned a national attention when his mother's Facebook posts about him went viral.
Melanie Johnson wrote: 'Just to see how much the seniors appreciated this fine gesture is beautiful...the hugs, the smiles, the love!!! Ahhh I am in tears!! Just beautiful!'
'He is so special, and his parents should be so proud. And this is how America should be and should watch to see how love is,' Linda Ainslie Mock commented.
Read more on our Twitter account @amomama_usa.
Please fill in your e-mail so we can share with you our top stories!