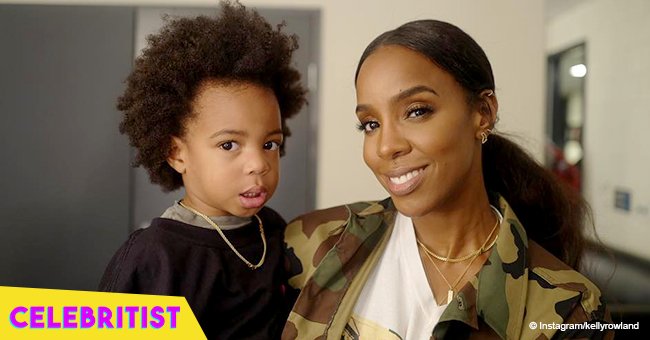 Kelly Rowland goes twinning with 3-year-old son in bonnet and cozy winter coats in recent pic
It has been years since Kelly Rowland first opened up about feeling lost after giving birth to her son. A good three years later, Kelly and Titan have been spending a lot of mother-and-son bonding time together in matching outfits.
In 2014, Kelly Rowland welcomed her son Titan with husband Tim Witherspoon in November. After giving birth, the singer claims she was frustrated, and even asked her ob-gyn, Dr. Tristan Bickman, for an instruction manual on how to be a mom, but none existed.
The result was that Rowland, ended up writing a book called "Woah, Baby!" to aid moms in taking care of their newborn babies.
In an interview with US Weekly, Kelly shared that she hopes that new parents will feel prepared as they read the book, as all the things written happened to her without having any information on them.
However, Kelly eventually learned how to be the best mom she could be, even shedding tears when Titan first said that he loved his mom.
"The first time Titan told me he loved me, it made me cry hard. I was like "that's a piece of me that my husband and I made and he's expressing his love". It was the most beautiful sound."
The mother-and-son duo have been heading out in matching outfits, even stepping out recently, ready to brave the cold in their best winter outfits.
In the photo, Kelly and Titan posed by a window dressed in matching black coats, beanies, and white shirts.
Her adorable three-year-old flashed a peace sign for the photograph, while she tilted her head to the side, covered her eyes in oversized sunglasses, and striked a pose.
Titan Rowland Witherspoon was born on November 4, 2014 to Kelly Rowland and Tim Witherspoon, who have been dating since 2011. Witherspoon first started out as Rowland's manager before the two were romantically linked and eventually married.
Please fill in your e-mail so we can share with you our top stories!