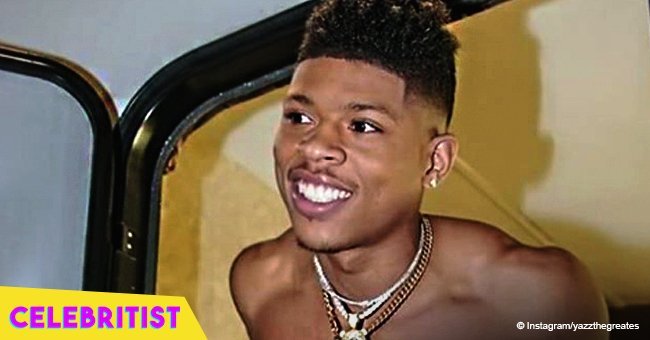 'Empire's Yazz flaunts muscular body in shirtless photo after sharing pic with baby girl co-star
Bryshere Y. Gray is better known for his role as Hakeem Lyon in FOX's musical-drama series "Empire." The young actor also has a career as a musician in real life, and he knows exactly what his fans want to see from him, as he recently shared a shirtless picture on his Instagram account.
Celebritist learned from Gray's Instagram account that he has been working out really hard in order to maintain his defined body and he's proud to show off the results of his effort. He also probably thrives on the attention he gets from female fans after posting his sexy photos.
Bryshere, who also goes under the moniker Yazz The Greatest when he's on stage performing as a rapper, put on display his torso in a recent photo he posted on social media that made his fans drool over their screens.
The shot earned him some heated up comments from his fans, read some of them below:
"fatimaluv865: Would love to climb on up.....#mySanta"

"xxkershama: Same u so hot I love u yazz big fan"

"saniyyahalqaadir: U look like money"

"victorialovinmyfam: I love u u are fine as hell."
Yazz, who started his career as a musician on the clubs of Philadelphia, saw a lot of doors open for him after he was cast on "Empire," and he's now a recording artist signed to Columbia Records. Unlike some of his co-stars, Yazz has been keeping his private life away from the cameras, avoiding relationship rumors and focusing on his career.
In fact, the only girl featured on his Instagram account as much as his mother is his baby co-star, the little girl who gives life to Bella Lyon, his character's daughter in the series.
The adorable girl is known for being a source of happiness for the "Empire" crew, and at her age, she's already considered a professional star by the producers of the show, who gushed about how well-behaved she is whenever they're shooting a scene.
In a special clip, the cast discussed who they believe is Baby Bella's favorite co-star, and all of them pointed out at themselves, showing just how much love there is on set for the adorable little girl.
The final episode of season four of "Empire" just left a cliffhanger on Yazz' character, so we're not even sure if we'll get to see the actor make his big return to the series next year, but we hope for the best.
Please fill in your e-mail so we can share with you our top stories!