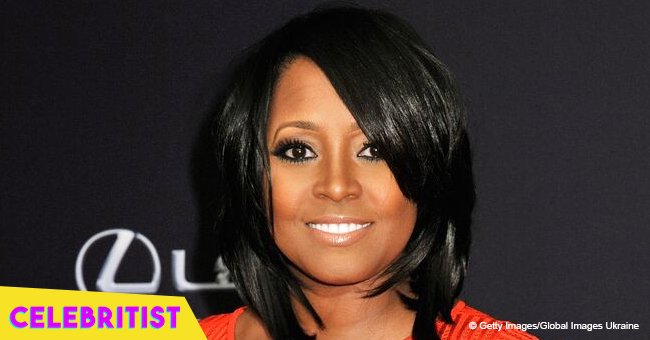 Keshia K. Pulliam shares photo of daughter in tiny, strappy dress, choosing book for bedtime
Keshia Knight Pulliam, better known for her childhood role as Rudy Huxtable in the sitcom "The Cosby Show," recently melted hearts as she shared a beautiful photo of her adorable little girl getting ready to read on her bedtime. She just won custody of the baby girl a few months ago, and couldn't be happier about it.
Celebritist learned from Keshia K. Pulliam's Instagram account that the actress is a proud mother as she has been sharing some adorable shots of her one-year-old daughter, Ella Grace, while still protecting her identity.
The new mom knows what is like to be put in the spotlight at a young age, so she's making sure not to share Ella's face on social media for the time being. In fact, the only picture of the girl's face we have, she shared it on Mother's Day, and is a throwback pic of newborn baby Ella.
In the recent photo that melted fans' hearts, baby Ella is riding her toy horse while picking a book off her shelf while wearing a strappy pink dress. Keishia wrote in her caption:
"Ella's book choice for bedtime... "I Like Myself" by Karen Beaumont. #KampKizzyLifetimeMember #MommyAndEllaGrace #MomLife"
The little girl is growing up fast, and her parents, Keshia and Ed Hartwell, were involved in a bitter divorce and custody battle for most of last year after the actress filed the divorce papers seven months after they tied the knot officially.
Hartwell walked out on Keshia when she was in the fourth month of her pregnancy, alleging that she had cheated on him and the kid was not his. However, a DNA test ran after Ella was born proved that he was indeed the father, and the custody battle that took place afterward earned the former couple several headlines and critics from the fans.
The former athlete didn't wait for the divorce proceedings to be over to move on with his love life, and he impregnated another woman, his former fiancé Tonya Carroll, who was happy to show off her baby bump on social media despite the situation.
Last month, Keshia and Ed put an end to their legal battle. She won full custody and he was ordered to pay $3,007 dollars a month in child support with visitation rights. They also reached an agreement about Ella's last name, since they both wanted her to bear only their last name.
We're glad to know that Ella's parents have finally reached an agreement over her custody, and we can't wait to see more adorable pictures of the girl on Keishia's social media.
Please fill in your e-mail so we can share with you our top stories!