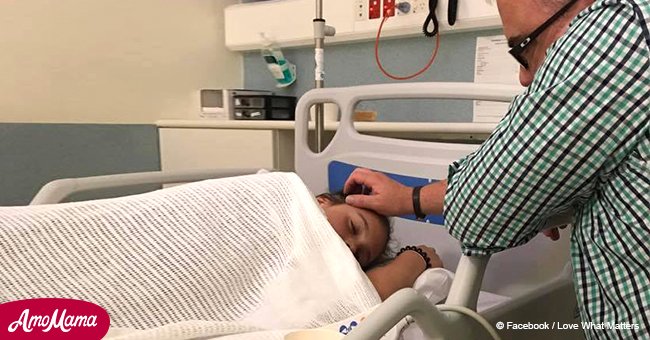 Mom fights against bullying after daughter is hospitalized
Leigh Davey filed for a restraining order against the bullies after her daughter ended up in the hospital.
On October 23, 2017, Davey's story was shared by Love What Matters on its Facebook page.
"Our beautiful girl has been subjected to some awful bullying at school. It's been a very private 7 months for us, dealing with this, immediate family only," Davey wrote.
The mother pointed out that in the age of social media, children believe it's okay to send offensive messages without consequences.
"I've had calls from these children calling me an old hag because I've defended our daughter, approached parents and pleaded with them to talk with their children and ask them to stop. I've even approached the children themselves, but been threatened by parents with harassment," she explained.
According to Davey, the Department of Education doesn't expel students for bullying because "every child is entitled to an education."
"What about our child's entitlement?" she asked.
Davey then revealed that her daughter has been sent home many times after self-harming at school. Her daughter would take the blade of a pencil sharpener out and cuts herself.
However, the WA Department of Education just told Davey to teach her child how to be resilient against bullies.
"Our girl has had a video taken of her sitting at her desk at school, legs slightly open, with a lovely caption about the smell. It was posted to Snap chat," Davey explained.
"I spent 90 mins with the police as they tried to determine if it was photographing and distribution of pornographic material. Yes, a 12-year-old can be prosecuted if the content breaches certain criteria. Sadly our daughter's didn't, but she was subjected to weeks of ridicule. Repercussions? The girl who posted the video lost her playtime. The person who took the video? Nothing, because no one would tell who it was," she added.
Davey said she took her daughter to the hospital for planning to take her own life. She later filed for a restraining order against the bullies, on behalf of her daughter.
"The school has a safety plan for the bullied child, our daughter. And the bully? She only loses recess and lunch privileges. This is infant school punishment!" she wrote.
Davey told the parents to check their children's messages and to make sure their children are being polite and respectful in their messages.
"Teach the children to 'talk' not use text or social media to air their differences," she wrote.
Please fill in your e-mail so we can share with you our top stories!