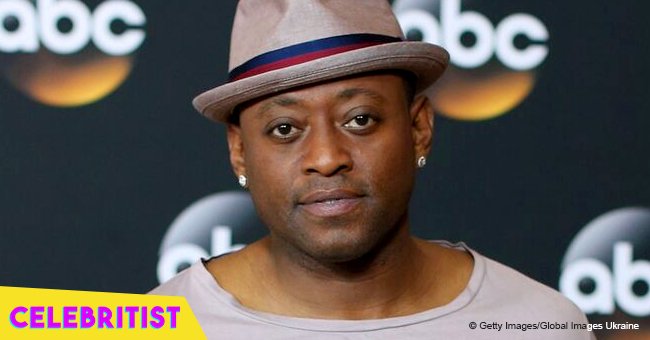 Omar Epps' wife flaunts curves in one-piece orange swimsuit in recent picture
The singer reflects on her life as she celebrates her 48thyear showcasing her stunning beach body from the balcony of a building.
Keisha Epps is turning 48 this month and while she's on a birthday break, she's leading fans to believe that age is just a number with a striking display of her flawless body.
Dressed in an orange one-piece swimsuit, it's evident the mother-of-two has been taking care of her body. Though she covered up with a long colorful robe that opened up in the middle, her enviable curves were still prominent, as well as her gorgeous thighs that leaned against the glass banister she stood against.
She neatly kept her braided her a top knot as she wore a pair of brown sunglasses to shield her eyes from the sun's glare that peeked through the balcony she was on. Below her, a swimming pool overlooks the ocean.
Keisha told her fans she was "#reflecting" on her birthday as she looked away from the camera in the photo she shared. She also revealed she was thankful for "ALL the birthday LOVE" as she celebrates "the whole season…and life in general."
Keisha truly has a lot to celebrate apart from her gorgeous body. She thrives in her 12-year-marriage to actor Omar Epps and enjoys being a mother to their two children, K'Mari and Amir.
Just days prior to her swimsuit post, she spoke of acceptance and being in a great space, revealing how she's "evolving in my truths & the truths around me." She added,
"I'm ready for this next chapter. I've experienced new eye awakening discoveries and was moved by it, learned a new thing or two and then dropped the ball. Damn it. But..I'm picking it right back up. I've started things and haven't finished them..but...I'm starting right back up..and...I'm finishing!!"
Keisha was also looking forward to a new beginning in her life, a timely realization as she turns a year older.
"All these deposits I'm putting into my account? Not money..just MORE time, LOVE & care for selfBeginning a new journey for meLook...I'm gonna pay so much attention to my own needs that the twin in me will be jealous #GEMINI"
Before ending her lengthy reflection, she affirmed her love for herself and her life.
"The moral of this post is I'm loving everything I am right now & the acceptance of that. Loving everything that I'm knowing..good or bad...it's my LIFE and I'm alive and I have the power to CHANGE anything I want. Thank you God #beautifulRevelations#AnAbundanceOfManifestations#ImAnArtistAndImSensitiveAboutMe#TransparentLikeAMug #Clarity"
Along with a brand new year, Keisha welcomes a renewed spirit.
Please fill in your e-mail so we can share with you our top stories!