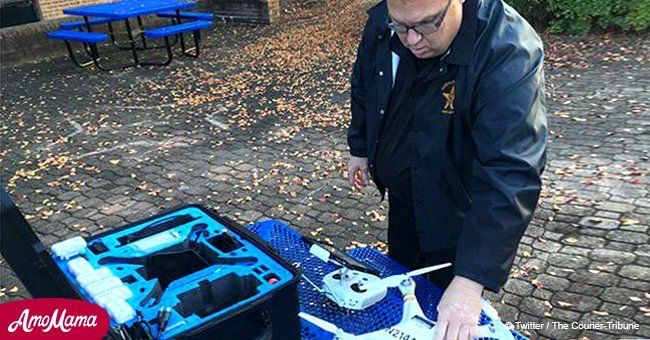 Sherriff's office used drone to locate missing person with dementia
When the woman was reported missing, the Sheriff's office thought up an unconventional way to find her.
An 81-year-old woman from Randolph County who suffers from dementia was reported missing by her husband in November 2017.
As reported by The Courier Tribune, the sheriff's office decided to use a new device in the office to search for her: A drone.
The department had had the drone for just 6 weeks at the time, and it had already been used to capture footage of two crimes, and to look for a suspect, in lieu of endangering officers' lives.
But it was the first time that it was used to search for a missing person.
Officer Adam Krolfifer deployed the drone from near the family's home, and started branching out from there. First he checked a nearby pond, before moving on to a cornfield in the area.
He didn't see anything on the first pass over the cornfield, but his gut instinct told him to check again. When he did, he noticed something that didn't match the rest of the brown field: A purple jacket.
Krolfifer flew the drone lower, and immediately realized he had found her.
"I let out a 'yee-ha — yes!' The family came running over, 'Did you find her?' This was exciting to me. It was just one of those moments," Krolfifer.
From the drone footage, Krolfifer was able to direct deputies to the woman's location to bring her safely back home.
Other officers had been sent out on foot to search for her, as had a K-9 unit, but it took just minutes for the drone to find her.
"No doubt we would have located her, but he located her very quickly, which was great," Sheriff Robert Graves said
Krolfifer has 8 years experience with drones, and had volunteered to do video work for the sheriff's office. Graves hopes to get another officer certified to operate the drones.
"The possibilities in law enforcement are endless. It's a force multiplier is the way I like to say it. When you're up in the sky, you can really broaden your horizons, so to speak, as far as what you're seeing," Krolfifer said.
The office paid $750 for the drone and all its equipment, but the device retails for around $2,200.
Captain Bernie Maness already feels like the department has gotten its money's worth of the drone in being able to find the missing woman.
Please fill in your e-mail so we can share with you our top stories!