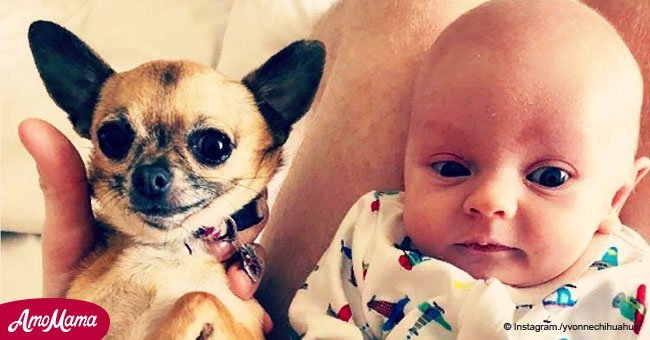 Mom filmed Chihuahua meeting newborn baby boy for the first time
The Chihuahua named Quica had been protecting the baby before he was even born. Her reaction when she first saw the baby was adorable as shown in the video.
33-year-old Yvonne Walsh decided to record the first meeting of her pet Quica and her new son, baby Nicholas. The infant was just four days old at the time having been born on March 12th.
Eddie, 37, Yvonne's husband, was holding baby Nicholas when they showed him to Quica.
Quica was hustling on the floor as Eddie knelt down and presented the baby to their beloved pet.
They were probably expecting that Quica was going to jump towards baby Nicholas for Eddie seemed cautious at first, but it came as a surprise when Quica quickly flung herself to the floor.
Talking to the Daily Mail, Yvonne, who lives in Dublin, Ireland, said that they decided to film the whole thing because Quica had been very protective of her when she was still pregnant.
They had assumed that Quica was going to be excited to meet the person she had been guarding all those months.
"When my husband Eddie used to touch my bump, Quica would try to protect the bump and would snap at Eddie to get his hand away. As a result of Quica's protective instinct we had an inclination that she would be excited to meet the precious goods she was so eager to guard," explained Yvonne.
She also added that even though Quica had been spayed, it seems that she still embodies a mother's instinct.
Quica would often have the initiative to guard and look over baby Nicholas whenever she could. It seems clear in the video that the pet has grown to love the baby at first sight.
Yvonne pointed out that the Chihuahua has been kind and gentle whenever she is around the baby as well.
She said, "Quica likes to stand guard by Nicholas' crib and alerts us when he makes a sound or squeak. She is very gentle and knows not to touch Nicholas, she simply submits in his presence."
Quica has another brother named Jose and although he isn't as close to the baby as his sister is, Yvonne shared that he is also very cautious around baby Nicholas. For more stories like this, visit our Twitter account, @amomama_usa.
Please fill in your e-mail so we can share with you our top stories!