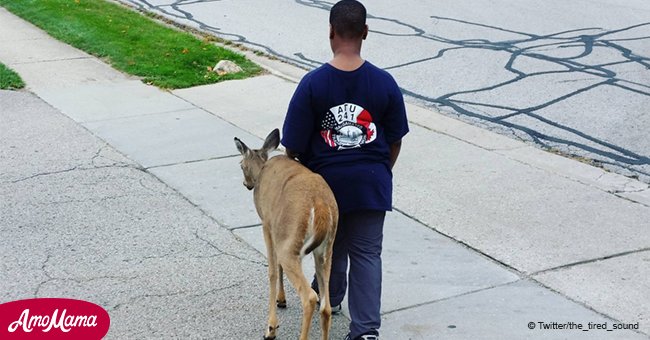 10-year-old boy helped a blind deer to find food every morning
A blind deer found support in a young boy who walked her from one grass patch to another every day.
A user on Reddit, bluecollarclassicist, from Illinois, shared the story in 2015.
A 10-year-old boy helped a blind deer find food every day before his school. This happened for a few days before neighbors noticed and called the local wildlife rescue group.
The user informed that his wife called the agency and they informed her that a team would reach the spot to pick up the animal. He hoped the animal was okay as 'she was so docile.'
The same user later revealed that an Illinois Department of Natural Resources (IDNR) licensed wildlife rehabilitation group picked up the deer in a trailer.
It was a heartwarming scene as many from the neighborhood came out to see the animal being rescued. Also present were the young boy along with his mother.
The user also promised that he would follow up with the facility to see how the deer was doing.
Since many other users on Reddit were anxious about how the little friend of the animal was feeling about it going away for treatment, he said, "his concern was very mature."
The boy had not named the deer nor did he claim her as a pet as he was only walking it for a few days. He was concerned about her wellbeing and was relieved to know she would be safe at the licensed center.
The neighborhood had also pitched in and was feeding the stranded animal for almost a week. He said that the boy was 'by far the sweetest example of helping and caring.'
He had shown a lot of love and respect for the animal and everyone was impressed with his actions.
The man and his wife decided to talk to his mother to figure a way to reward his act of kindness. They also wanted to frame a photo of the boy with the animal and gift it to him.
He added that he would be happy to take him to the local wildlife preserve whenever he would want to go.
Read more on our Twitter account amomama_usa
Please fill in your e-mail so we can share with you our top stories!