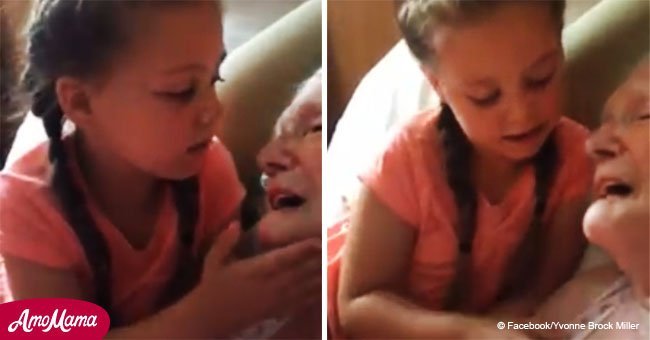 Little girl sings 'You Are My Sunshine' to her great-grandmother with dementia
The young girl has continued to sing the emotional family song to her great-grandmother over the years.
The intimate bond between a young girl, Sophie, and her grandmother proved that the connection between grandparents and grandchildren is truly a special one.
A video uploaded to Facebook back in 2015 showed a young Sophie singing You Are My Sunshine to her great-grandmother, who is suffering from dementia.
The little girl sang the song while nestling up to her on the hospital bed. Sitting up close to her great-grandmother's head, she softly caresses her face while hitting the notes to the emotional song.
The elderly woman reacted to the song by looking up to Sophie in total adoration. She also seemed grateful to have the soothing voice of her great-granddaughter next to her during her time of struggle.
The video was uploaded on Facebook, by Ynonne Brock Miller, who is Sophie's grandmother. She informed that You Are My Sunshine is a song that has been sung in their family for years and holds a special place in everyone's heart.
Sophie continued to sing to her great-grandmother in similar fashion over the years. In 2017, another video uploaded to YouTube that showed Sophie's yet another visit to her great-grandmother.
The video, however, shows a bit older version of Sophie singing the song to her great-grandmother.
She nestled up to the elderly woman's bed in the similar fashion as before while singing the emotional song, all the while continuing to caress her great-grandmother's face throughout the song.
Please fill in your e-mail so we can share with you our top stories!