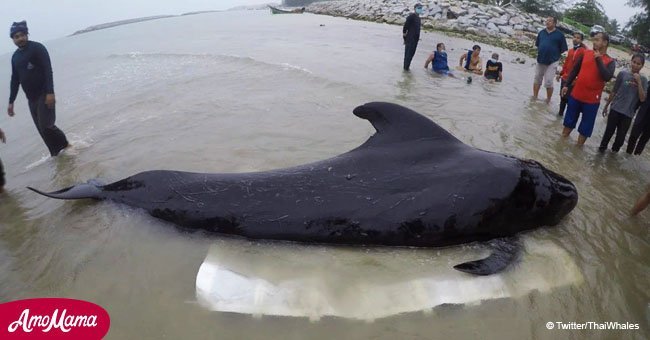 Young pilot whale died after ingesting 80 plastic bags
A young whale, which washed up on the coast in southern Thailand, died despite efforts to nurse it back to health.
Thailand's marine authorities found the marine mammal in the Na Thap Canal on May 28, 2018, but it died four days later.
The pilot whale died after it swallowed 80 plastic bags. It was found just north of the Malaysian border with the environmental officials using boats to keep it afloat.
They attempted to nurse it back to health for days but were unsuccessful when the marine mammal died on June 1, reported Channel News Asia.
According to Thailand's Department of Marine and Coastal Resources, the whale even vomited five plastic bags during the rescue operation. An autopsy of the animal revealed it had swallowed 80 bags weighing up to eight kilograms.
The department took the opportunity to warn about plastic pollution and its negative effect on marine life.
Marine biologist Thon Thamrongnawasawat said that the plastic in the animal's stomach would have stopped the whale from absorbing the nutrients necessary from its food.
Speaking to AFP, he said, "If you have 80 plastic bags in your stomach, you die. It's a huge problem. We use a lot of plastic."
The Royal Thai Embassy said that the country struggles with a serious marine plastic pollution which sees an estimated one million tons of garbage and waste being spilled into Thai waters annually.
Ocean Conservatory, in a 2017 report, said that Thailand was one of the world's top-five plastic polluters. The other countries include China, Indonesia, the Philippines, and Vietnam.
Hundreds of marine creatures living near the country's popular beaches are killed every year due to plastic pollution.
A number of efforts to clean up plastic from beaches and streets have been launched by citizens in Thailand, according to UPI.
Initiatives such as the Clean the Beach Boot Camp have strived to create awareness about pollution and to organize garbage cleanups in the country.
Read more on our Twitter account amomama_usa.
Please fill in your e-mail so we can share with you our top stories!