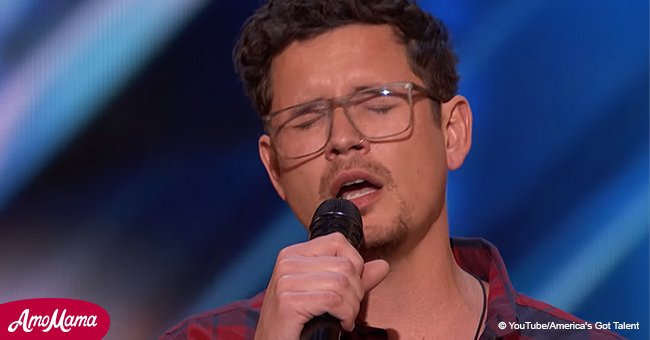 Dad of 6 earns a standing ovation for his incredible voice on 'America's Got Talent'
Michael Ketterer won the audience over when he appeared on the latest episode of America's Got Talent.
The father-of-six from Orange County, California, entered the competition to show his foster children that they can pursue their dreams.
He hoped they would have more confidence to pursue their passion if they saw their father "live out his dreams." His family was cheering Ketterer on from the side of the stage.
According to his Twitter account, he is a pediatric mental health nurse who is 'passionate about most things in life,' but music has a special place in his heart.
He performed To Love Somebody by The Bee Gees. Cowell seemed pleasantly surprised, and Ketterer received a standing ovation.
"When you're surviving, you can't dream. And that has been one of the most rewarding things, is providing them with a home and a safe environment, where they're free to dream."
Cowell said the judges consider several factors when choosing singers for the show. Sometimes it about being technical, in other cases it is about being relevant.
Personally, he prefers entertainers who 'are real' and true to themselves. Cowell also added that Ketterer was so nervous he was concerned on his behalf!
"But I think sometimes actions speak louder than words," and with that, Cowell slammed the golden buzzer, sending Ketterer through to the next round.
After the performance, Cowell said that there was just something about Ketterer's voice: "I genuinely mean this, it's special, and everything was perfect."
AGT viewers agreed and commended Ketterer for his starling performance. Joe Crabb said the performance was powerful. He thanked Ketterer for the 'words, the moment, and for the tears in my coffee.'
Ron Buckner said Ketterer was 'an amazing singer and even more of an amazing person,' while Melanie Bedoya noted that his voice is like the ocean: huge, breathtaking and powerful.
Ketterer said on Twitter that he appreciates the love and support from his family, friends, and fans. He also thanked God for the 'amazing opportunity' he had been given.
'Thank you [Simon Cowell] for hitting that button!' he added. For more inspirational stories like these, follow our Twitter account, AmoMama USA.
Please fill in your e-mail so we can share with you our top stories!