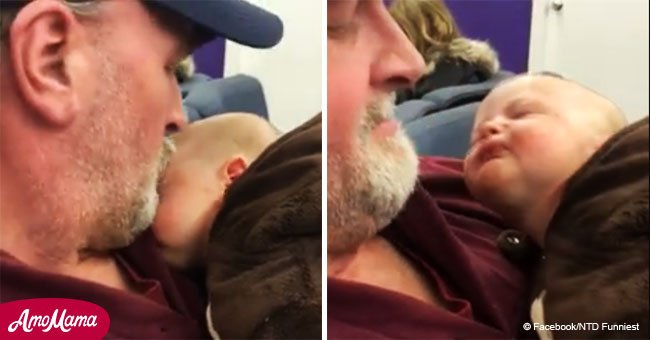 Babies laughing at the simplest things in life were caught on camera
Nothing seems more adorable than hearing toddlers laugh their heart out.
A video shared by NTD Funniest captured these heartwarming moments.
The video opens with a baby sleeping (or so it seems) on a man's shoulder. Each time he kisses the baby, the latter would raise her head to kiss him back.
The clip then shows a little boy in an orange rain coat giggling while playing with a tiny puddle. He laughs so hard he falls down on the pavement. He is quick to get back on his feet.
The video then cuts into a footage of a toddler sitting on a beach laden with pebbles. The adorable baby giggles as a man, presumably his father, sticks his foot near the baby.
Another adorable moment is that of a toddler hugging a small horse and looking elated after doing so.
A baby girl sitting on the beach, fascinated by the waves as they envelop her legs is also featured in the video. The girl, wearing a pink hat, looks unfazed by the waves lapping on her legs.
The video also shows a toothless baby smiling after getting a taste of a drink from a straw. A toddler fascinated by raindrops is also shown in the video. Wearing his diaper, the baby claps his hands while watching the rain.
The clip then shows a baby getting a taste - literally - of the snow. Sitting on pure, white snow, she bows down to lick the ice on her side.
The video cuts into a little, shirtless boy dancing in mimicry of a puppet toy.
A baby girl hugging a book filled with photos of animals is shown next.
The clip ends with a footage of a baby adorably sucking a pacifier while on her father's lap.
Running for less than two minutes, the video has been viewed 24 million times. It has been shared 250,000 times and generated over half a million reactions.
Read more on our Twitter account @amomama_usa.
Please fill in your e-mail so we can share with you our top stories!