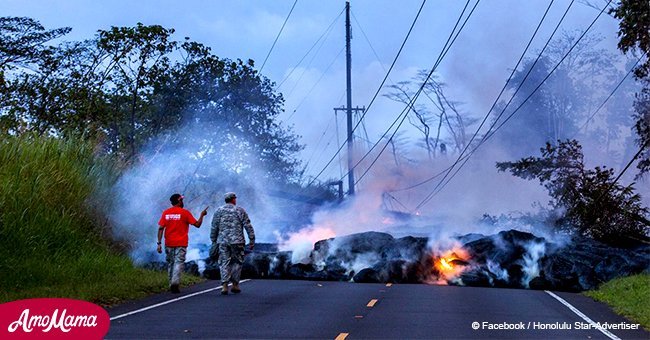 Hundreds of homes destroyed by Hawaii's Kilauea volcano
About hundreds of homes located at the oceanfront have been burned to nothing due to the lava flow from the Kilauea volcano in Hawaii, according to the authorities.
The officials revealed the news on June 5th while talking to AFP. A spokeswoman for Hawaii County named Janet Snyder shared updates as shared by Times Live.
Snyder said, "We lost hundreds of homes in Kapoho Beach Lots and Vacationland overnight, but we don't have exact figures."
In addition, Snyder explained that apart from the recently lost homes, 117 others have already been destroyed since the first eruption of the active volcano on May 3rd.
The eruption forced about 2,500 people to leave their homes and evacuate their properties.
Two more communities that had been affected as of late by the lava flow had been told to evacuate before the lava reached their homes. Nobody was reported to be injured by the calamity.
Snyder also revealed that one of the victims, whose home was lost, was the Hawaii County Mayor Harry Kim. The spokeswoman shared that the mayor's second home was devoured by the lava.
According to the Hawaiian Volcano Observatory, they conducted an overflight on June 5th and confirmed that lava already filled the entire Kapoho Bay, covered majority of Vacationland, and as well as the Kapoho Beach Lots apart from its northern portion.
The Observatory also noted that a series of earthquakes occurred from the night of June 4th until the morning next day. At one point, the magnitude reached 5.5 which caused the volcano to generate an ash plume.
As of now, lava has already devoured around eight miles of property since the volcano, which is one of the five sitting on Hawaii's Big Island, started erupting.
The scientists have hypothesized that the series of volcanic activity that had been happening can be just the beginning. They believe that a major eruption might occur, which had already happened during the Kilauea eruption in the mid-1920's.
For more updates about the eruptions, visit our Twitter account, @amomama_usa.
Please fill in your e-mail so we can share with you our top stories!