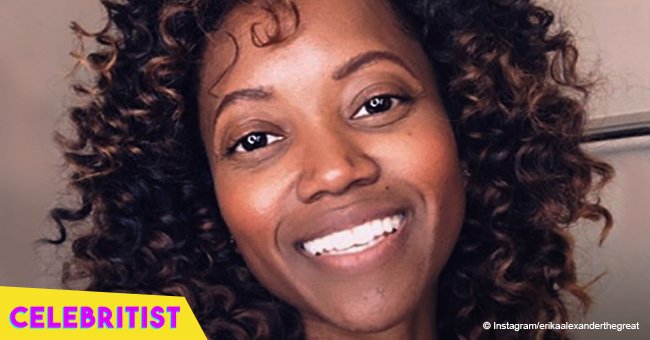 Erika Alexander stuns in mini patterned dress in recent pictures
Erika Alexander is better known for her stellar role as Maxine Shaw in the sitcom "Living Single," but she's still active in the entertainment industry, and aside from acting she's now trying to make a difference in Hollywood with her production company.
The 48-years-old actress has secured her legacy in the industry not only by acting but also by writing and producing several shows. On top of that, she recently created her own media business, a multi-platform production company called Color Farm Media that will focus on financing and developing racially diverse content for film, TV and digital media.
Alexander is currently on the look-out for projects for the company and she has been traveling around the country meeting with talented new-comers filmmakers, screenwriters, directors, actors and more. The objective of her on-going project "Keep It Colorful" is, according to her Instagram "to greenlight over 50 digital series pilots from creators of color this year."
Erica stunned all the fans and content creators that went to see her in Cleveland with a mini patterned dress that enhanced her figure and that she completed with an embroidered red and blue jacket military style.
Speaking about the success of movies like "Black Panther" and "Get Out," which had an all-black cast, Erika explained her belief on the changing that is taking place in Hollywood, where there's more representation for the African American community, saying:
"These movies didn't just do well, they broke box office records. We had to dispel this idea that casts of color were box office poison." Now, it's clear that today's audience, raised on hip-hop, is voting with their dollars. They're supporting work that depicts a world that's normal to them, a world that is populated by more than the usual cast of white, male protagonists."
Erika has been married for over two decades to a white man, something that she has been criticized for. But the man, screenwriter Tony Puryear, has stated before, in controversial statements, that since he's biracial but grew up in the Bronx and his family was heavily involved in the civil rights movement, he considers himself a black man.
The couple has been working together on a graphic novel called "Concrete Park," a sci-fi comic that is centered in black characters and that takes place in the hood. Even though they were met with resistance from publishers at first, the book has been a success and is currently on the third book.
Erika is also collaborating with Joss Whedon on a comic series featuring "Buffy the Vampire Slayer"s character, Giles.
Is clear that this has been a moved year for Erika Alexander, which is good for her because is proof of how talented and smart for business she is. We wish her all the best in her future projects.
Please fill in your e-mail so we can share with you our top stories!