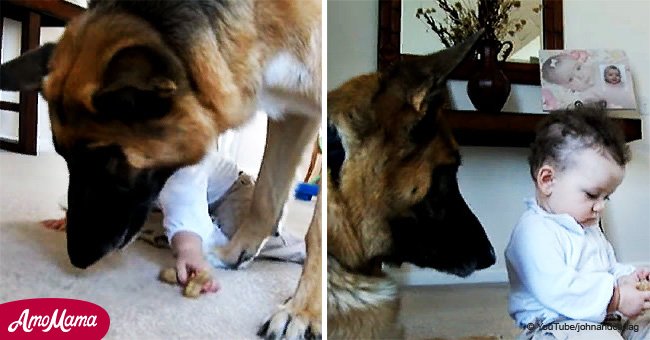 Toddler caught red-handed stealing treat from German Shepherd
When the little baby girl stole a treat from the German shepherd, the dog did something incredible.
Baby Ava and Brano the German Shepherd are best friends, that is until Brano was given a treat.
It seemed that Ava was sad when her father rewarded Brano with a doggie snack.
In the YouTube video that was shared on October 29, 2007, Brano can be seen eating down one of the dog treats.
Then, Ava leans forward so she can steal one of Brano's snacks.
In a few attempts, the little girl finally grasps ahold of part of the treat in her hand.
Ava's father, who captured the moment, can be heard laughing in the background.
"Did you steal Brano's treat?" he asks Ava.
When Brano realizes that he's missing a treat, he follows his nose straight over to Ava.
The dog finds her guilty so he tries to carefully pluck the doggie snack out of her hand.
However, Ava hides the crunchy doggie snack behind her back.
She even holds the treat tighter in her little hand when Brano follows her hand and his treat behind her back.
The video also shows how Ava looks over her shoulder to glance at the dog defiantly.
Meanwhile, Brano just lies down next to her.
For many dogs, touching their food would be a big no-no. But Brano is an incredible friend to Ava.
Though Ava's father encourages him to take his treat, he still won't do it.
The video has gone viral, with more than 7 million views. A lot of YouTubers also placed their thoughts via comments.
Cara von Cain wrote: "C'mon guys! if the dog was really gonna hurt the baby he could have easily bit his head off with his sharp fangs and claws and got what he wanted. but clearly he didn't. cuz animals are not monsters. it all depends on the owner and how he trains the dog. Such a cute video."
"Excellent example of how german shepherds are wonderfully trustworthy around children. I trust them more than people," James Cronin added.
Read more on our Twitter account @amomama_usa.
Please fill in your e-mail so we can share with you our top stories!