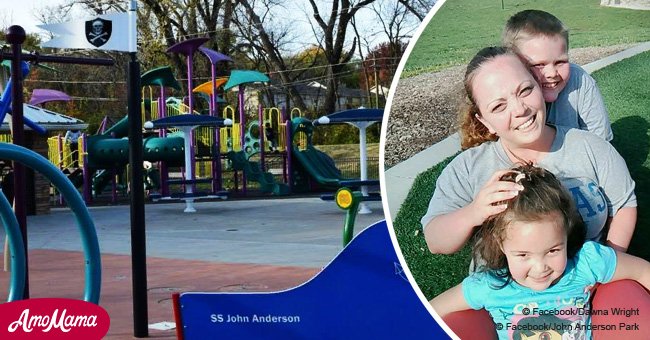 Mom shares warning after 2 children suffered 2nd degree burns in playground
The family had wanted to spend a lovely afternoon together over Memorial Day weekend, but things took a nasty turn as the children enjoyed a playground.
Dawna Wright took her four children to Grandview's John Anderson Splash Park on Memorial Day to enjoy the water, but her 4-year-old daughter Asia Smith was more interested in the adjacent playground, she told Fox4.
The little girl didn't want to be in the spray park, and kept asking her mother to take her to the playground.
Unsure whether the equipment would be too hot because it was 90 degrees out, Wright made sure to feel it with her own hand before she allowed her daughter, who was in a swimsuit, to use it.
Smith started playing on the jungle gym, but Wright instantly realized her mistake when the little girl started screaming as she went down the slide.
"I could tell by the expression on her face that something was wrong," said Wright. "She just kept screaming and screaming. I turned her around, and that's when I noticed the burns."
Wright rushed her daughter to the doctor, who determined that the 4-year-old had second degree burns over both her legs.
The shocked mother posted about the incident to social media, and was surprised when she heard from another mother whose child had been burned in the exact same way just the day before.
Pablo Aguayo, the director of the burn unit at Children's Mercy Hospital, has explained that children who are wearing bathing suits are at a greater risk than those who aren't, as even plastic equipment can become too hot for their skin.
"Their skin is a lot thinner, so it takes much less contact time," he said.
Grandview city officials were distressed to hear that the children had been harmed in a place that instead should be bringing them joy and laughter.
The playground has since added signs that warn parents of the dangers of the equipment when it is warm out, and has banned children in swimsuits from being allowed to play.
The city department responsible for the parks is discussing buying a canopy tent to protect the equipment from getting too hot in the sun.
Please fill in your e-mail so we can share with you our top stories!