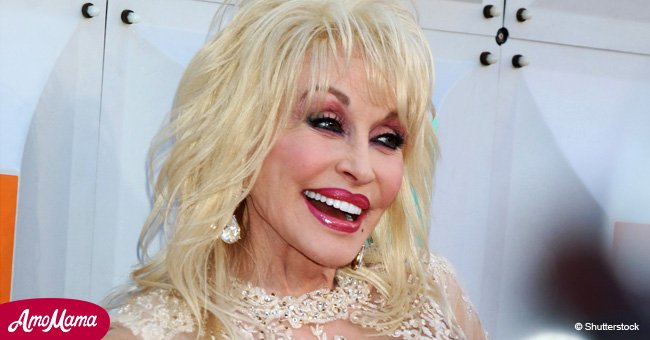 Dolly Parton gives chilling performance of rock classic 'Stairway to Heaven'
Country music icon Dolly Parton did her own version of the most popular rock song of all time, Stairway to Heaven.
Dolly, 72, recorded Stairway to Heaven because she always loved this song, according to Classic Country Music.
With the approval of Robert Plant and Jimmy Page, the song's composers, Dolly even added her own lyrics. The song was included in her 2002 bluegrass collection, Halos and Horns.
In a 2002 interview with CNN Entertainment, Dolly said: "My group is called the Blueniques, which kind of like bluegrass, unique bluegrass. So I flavored "Stairway To Heaven" up a bit with the bluegrass flavors like we did Collective Soul's "Shine" last year and won a Grammy for it."
"Toward the end [of the song] I added a choir. I always thought of this particular song as more of a gospel song, like somebody trying to buy their way into heaven. And I threw in a few little ad-libbed lines to make it more like it was. We used our bluegrass instruments and the choir to make that big part where Jimmy Page usually played. So we kind of made it bigger in all our ways," she added.
For her 2003 album, For God And Country, Dolly also covered the song Ballad of the Green Berets. The song was originally recorded by SSGT. Barry Sadler in 1966.
The singer recorded it to pay homage to American special forces. It became a hit soon after it was released, peaking at number one on the Hot 100 chart. The song cast the military in a positive light.
Dolly is known for promoting good causes. She has established the Imagination Library, which gives books to newborns until they reach kindergarten.
The past few years have seen her getting deeply involved with children. Her recent albums, in fact, was meant to raise money to provide more books to more children.
Born Dolly Rebecca Parton, the singer rose to stardom with the success of her debut album, Hello, I'm Dolly, in 1967.
For achieving unprecedented success in country music, Dolly is the most honored female country performer of all time.
Among her several accolades are nine Grammy awards, 10 Country Music Association Awards, seven Academy of Country Music Awards, and three American Music Awards.
She was inducted into the Country Music Hall of Fame in 1999.
Dolly has composed over 3,000 songs throughout her career. Among the most notable songs which she has composed are I Will Always Love You - which became Whitney Houston's international pop hit - and Coat of Many Colors.
Please fill in your e-mail so we can share with you our top stories!