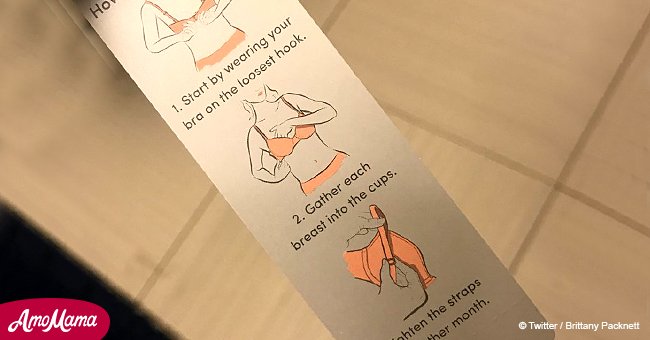 Woman realizes she's been wearing her bra wrong for 20 years after seeing a guide
She always thought that wearing a bra was quite self-explanatory and it never crossed her mind that she could have been doing it wrong all along, until she notices a lingerie tag that showed her how mistaken she was.
Twitter user Brittany Packnett, who identifies herself as an activist, educator, and writer, took to the popular social network to explain through a series of 'tweets' illustrated with funny animated gifs how she finally learned how to wear a bra.
Packnett showed the tag from a bra from a lingerie brand she hadn't tried before in the tweet that started the stream in which she tells the entire story. The tag has a three-step guide with pictures that show how to properly put a bra on.
'@ThirdLove just told I've been putting on my bras wrong for twenty years. You probably have, too,' Packnet started her story, mentioning the lingerie brand in question.
She went on to reveal that she never paid any attention to the tag that came with her bra until one day she casually took a look at it and was curious enough to read it, even though she was sure that there was nothing that she didn't know already.
The instructions on the tag were titled 'How to put on a bra' and Packnet shared that she practically laughed at it, as she had been wearing bras for 20 years. But when she put the bra on as she always used to do it, she decided to read the tag.
Packnet was surprised with what she found, for, according to the tag, she had been doing it wrong since the beginning. 'My whole post-pubescent life has been a lie,' she said dramatically.
As can be read in the picture of the tag she posted, the instruction was to wear the bra on the loosest hook. It also recommended adjusting the straps once a month. Packnet claims to never have thought about doing any of those things.
The tag also advised placing each breast correctly with her hands. Packnet shared that since she has rather small breasts; she never needed to worry about placing them.
Packnet revealed that she gave the lingerie brand a try after a friend repeatedly told her how comfortable she felt wearing it. Since she didn't feel anything different when she put it on, she considered reading the tag that blew her mind.
Some users replied to her sharing similar stories, and she was relieved to read it, adding: 'And I'm glad some of you were honest that I'm not the only one.'
Please fill in your e-mail so we can share with you our top stories!