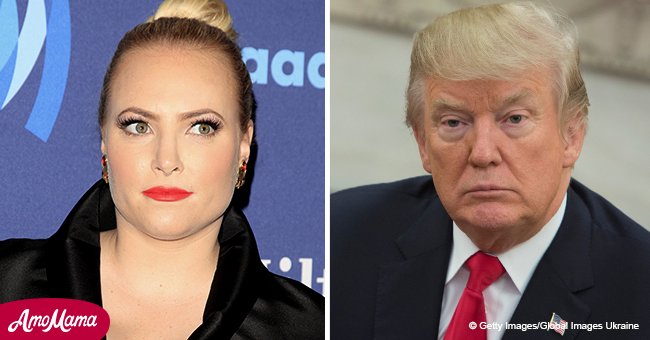 Meghan McCain blasts back at President Trump over personal attacks on her family
Meghan McCain clapped back at President Donald Trump who has made extremely personal attacks on her father.
Meghan, 33, accused Trump of attacking her cancer-stricken father Sen. John McCain to distract from his own political issues.
"It's really good politics that they're doing right now," she said on ABC's The View recently. "Because they are trying to change the narrative ... not talking about all the other bad things that are going on."
Meghan's statements about the current president came two days after he ripped into her father at a political rally in Nashville, Tennessee, and more than two weeks after Kelly Sadler, the White House aide, dismissed her father's significance because he's dying.
During the political rally in Nashville, Trump roused his audience by going after Sen. John McCain for his vote last 2017 against a bill that would have overturned Obamacare.
"We had it done folks, it was done, and then early in the morning somebody turned their hand in the wrong direction," Trump said. "The person that voted that way only talked repeal and replace. He campaigned on it."
Trump didn't mention the elder McCain by name, but the crowd wasn't confused about his target.
According to the daughter of 2008 presidential candidate, there was "boos."
"It was elicited by President Trump at the rally," Meghan added.
Since Sadler's comment about John McCain made headlines recently, Trump had been silent on his political adversary.
Meghan, who first received media attention in 2007 for her blog, McCain Blogette, revealed that Sadler reneged on a vow to apologize.
"I was promised an apology, Kelly Sadler publicly to my family. I did not receive that," she said. "This is not an administration that's capable of apologizing."
Meghan was named co-host of The View on October 9, 2017.
The former Fox News contributor has been a public figure for much of her life. She first appeared at the 1996 Republican National Convention.
Read more on our Twitter account @amomama_usa.
Please fill in your e-mail so we can share with you our top stories!