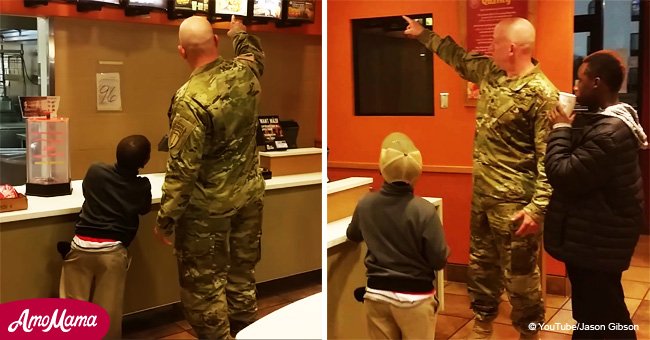 Soldier goes viral on Facebook after buying Taco Bell for two hungry local kids
Lt. Col. Robert Risdon Jr. treated two boys to dinner after noticing that they were hungry.
The U.S. Army Ranger stopped by a Taco Bell in Mobile, Alabama one Tuesday in 2016.
Risdon saw two boys walk into the restaurant bringing homemade sweets. The boys asked if anyone wanted to buy their products. They said they were raising funds for their local church.
The soldier chatted with the boys and discovered that they didn't have dinner yet. He noticed that the boys looked cold and wet. He decided to buy them tacos.
Jason Gibson, a football coach, took a video of Risdon buying the boys dinner and uploaded it to his YouTube page on January 27, 2016.
'I was in a Taco Bell tonight when two kids came in trying to sell homemade desserts for money. I overheard a soldier ask the kids if they were hungry and told them to follow him to the counter, he would buy them dinner. I had to video it and share,' Gibson wrote about the video.
He added: 'Our troops are always taking care of us. Thank you LTC Robert Risdon... I heard the little one say I want to be just like you when I grow up and saluted him.'
Risdon, who was stationed at Fort Benning, Georgia, had a friendly conversation with the boys as they are the food he bought for them.
The short video clip went viral. It has been viewed more than 2.6 million times.
The ranger received admiration from netizens.
Tara Gerlt commented: 'Just so people know about military personnel, not all of them can afford to do this but when they can you'd be amazed at how much they really let the people get. I've seen one single person get enough food to last 3 meals. It makes me happy to see someone finally get it on camera. Made me cry.'
'World needs more of this. Thank you for your service, sir,' commented YouTube user, ACE420.
Read more on our Twitter account @amomama_usa.
Please fill in your e-mail so we can share with you our top stories!