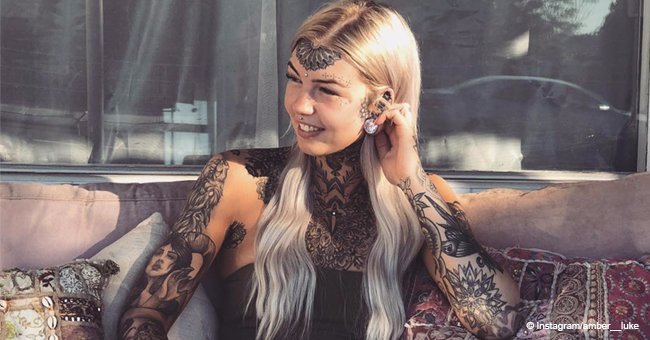 Tattooed eyeballs and split tongue: woman undergoes 'dragon' transformation
The 23-year-old body piercer opened up about the most challenging body transformations she ever got.
With more than 50 tattoos on her body, including her blue tattooed eyeballs, Amber Luke has spent over $10,000 to give herself a transformed look.
According to Daily Mail, Luke has even split her tongue and stretched her earlobes, which has earned her the nickname of 'Blue Eyes White Dragon.'
The piercer from Central Coast in Australia's New South Wales spoke to Daily Mail in an interview and opened up about her tattooing experiencing, claiming that she has "no regrets whatsoever"
Luke revealed that she absolutely loved the image of her that people have. She also admitted that she got her famous nickname of 'Blue Eyed White Dragon' from her friends because her split tongue and eyes resembled that of a dragon.
The young woman even admitted during the interview that she actually hated the way she used to look. She also deemed her previous version as 'boring.'
Luke got her first ever tattoo as soon as she turned sixteen after being around by people close to her. She explained that she "craved to know" what the feeling of getting a tattoo was like.
From that point, she got addicted to tattoos and went on to have three tattoos by the time she reached 18 years of age. Then, she decided to get her 'first big piece.'
She revealed that she now had over 50 tattoos and it has come to a point that she can no longer keep a count. The most challenging tattoo was the one she got in her eyeballs to turn them blue.
"It was very intense and very painful. My eyes got held open while a syringe was injected into my eye four times per eye. I was blind for three weeks," she told Daily Mail.
Getting her tongue split to complete her 'dragon' transformation was also another challenging experience for her. Luke revealed that she could eat or speak for a week after getting her tongue split.
Please fill in your e-mail so we can share with you our top stories!