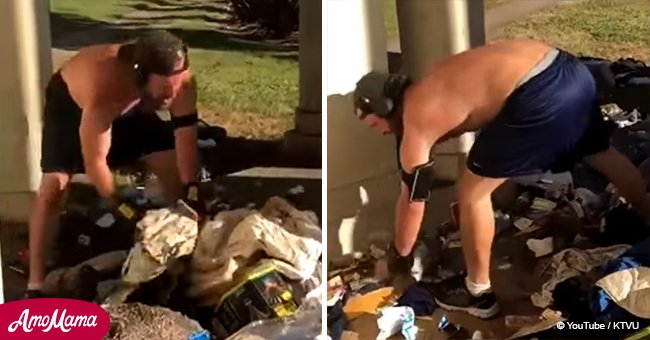 Man caught on video throwing homeless man's property in lake
The jogger had no compassion for the man whose belongings he was so callously discarding despite numerous pleas to stop.
Video footage of a jogger in Oakland, California, has gone viral after he decided during his morning run to throw away a homeless man's possesions on June 8.
The video, captured by filmmaker and photographer J.J. Harris, was horrified to come across the scene, where the jogger had already discarded some of the man's possessions into Lake Merritt.
He continued to rifle through the pile of belongings, next starting to carry it by the armfuls to a nearby trash can.
Harris posted the footage to Twitter, captioning it: "Yesterday in Oakland jogger found throwing a peaceful homeless man's possessions in the Lake. . What has this town come to?! #JoggerJoe #BbqBecky #Oakland."
Bystanders at the scene tried desperately to stop the jogger, asking him why he thought it was alright to take someone else's possessions and throw them away.
He can be heard responding: "I'm picking up trash, what do you want me to do? It was spilling everywhere. Look at this. It's disgusting."
Police officers were called to the scene, at which point the jogger continued on his workout. According to a Facebook post by Harris, officers explained that they could do nothing as the belongings are considered no more than "debris."
All they could do was write the unnamed man up for littering for the possessions that were thrown into the lake.
A GoFundMe campaign has since been started for the homeless man, who has been identified as Drew, by Kenzie Smith, the black man who had the police called on him for barbecuing in the park in April
"Like the thousands of other people in the Bay Area without homes, Drew is one of our neighbors. We're disgusted that someone thought it was ok to treat Drew this way and want to show him through our care that what happened to him is unacceptable," Smith wrote on the GoFundMe page.
Harris hoped that by pulling out his phone and recording the incident, others will also be inspired to document any injustice they may come across and try to help those in need.
Advocates for the homeless have cautioned people against assuming that the possessions of a homless person are simply trash.
"They [individuals and Caltrans workers] throw out something like people's social security mail, their identification, or their medications, and it could absolutely destabilize somebody and interfere with their ability to access housing, access medical treatment, and access things to get out of homelessness," Heather Freinkel told FOX KTVU.
Please fill in your e-mail so we can share with you our top stories!