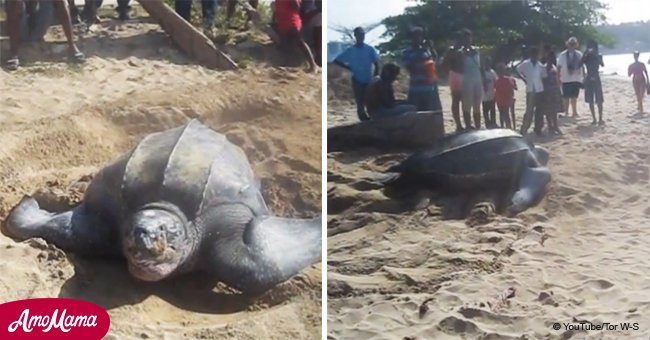 Giant leatherback turtle caught on video laying eggs
The people thought it was just another average day at the beach, but a giant turtle was about to prove them wrong.
In April of 2014, visitors to the Vigie Beach were amazed by the rare sighting of a large Leatherback sea turtle that came to the shore in broad daylight to lay eggs.
According to St Lucia News, these Leatherback turtles can make from three to five trips to the shores to make nests and lay eggs during a single season.
The source also informed that the turtles mostly come out to the shore during nights. Spotting one during the daytime is extremely rare and uncommon.
At the Vigie Beach, however, the giant Leatherback turtle came out during broad daylight much to the amusement of the crowd amassed at the beach.
The turtle was estimated to be around 500 pounds in weight. It was further informed that the sea animal spent about an hour on the Vigie Beach as it nested and laid eggs.
A crowd of curious and bemused spectators gathered around the animal as began to make its return journey to the sea.
The turtle required much effort as it dragged itself with along the sandy beach and toward the water. The crowd of people cheered the turtle on as it made a slow crawl back to the sea.
As the turtle neared the water, some of the visitors even attempted to touch the large turtle's sturdy back. Others recording the footage were heard screaming not to touch the animal.
After a while, the turtle finally touched the water and disappeared back into the depths of the sea, leaving behind its eggs and a crowd of amazed audience.
Please fill in your e-mail so we can share with you our top stories!