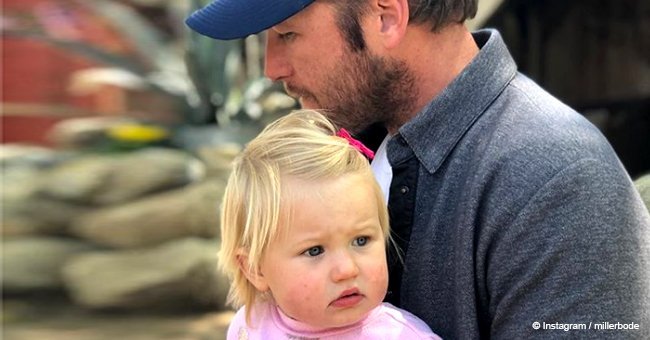 'Come on, come on baby girl': 911 call from Bode Miller's daughter's drowning
Olympian skier Bode Miller revealed on Monday that his daughter, Emeline Grier Miller had died on Saturday. The little girl died accidentally after she got into a pool.
On Tuesday the Orange County Fire Authority released the frantic 911 call that was made on that day. ABC News shared the clip of a woman speaking to an operator.
In the 911 audio, an unnamed woman made the call and told the operator that she needed an ambulance. This was after Emeline Grier Miller, 19-months-old, fell into a pool.
The operator could be heard asking the woman if the little girl was breathing. The woman replied negatively to the question
"Come on keep going," the woman tells a man in the background. This is after she explains to the operator that he was performing CPR on Emeline, the daughter of Bode Miller and Morgane Beck Miller.
The little girl drowned in a pool in the neighborhood of Coto de Caza, California on Saturday. "Come on, girl. Come on baby. Come on baby. Get it out. Come on, honey," the man could be heard saying.
The woman speaking to the operator also repeated the words, "Come on baby girl, you got this." They found a faint pulse and continued to try to clear the little girl's airways.
"Come on, come on baby girl."
Man in the 911 call, People, June 12, 2018
The tape ends as the paramedics arrive. The Orange County Fire Department said paramedics were rushed to the scene and performed CPR before transporting her to Mission Hospital nearby.
There she was unable to be resuscitated. The Orange County Coroner's Office also confirmed Emeline's death.
Orange County Fire Authority Captain Steve Concialdi revealed that the incident occurred around 6:30 p.m. on Saturday. The Miller's were at a neighbor's house, talking to them inside, and somehow the little girl made her way to the backyard pool.
The girl was said to have gone missing for only a short amount of time. When Morgane turned and realized she wasn't there she went straight to the backyard to where the pool was.
The child was in the pool and her mother pulled her out they started CPR immediately. On Tuesday Bode took to Instagram to thank his fans for their support.
He also shared links to a GoFundMe page and Meal Train which were set up for those who wanted to donate money or their time. For more on this story go to our Twitter account @amomama_usa.
Please fill in your e-mail so we can share with you our top stories!