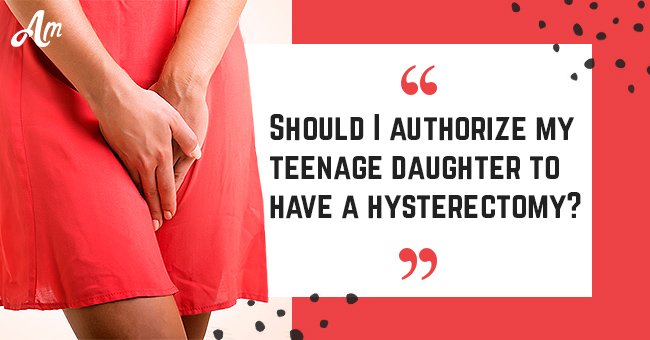 Should I authorize my teenage daughter to have a hysterectomy?
Dear AmoMama,
My 15-year-old daughter suffers from Premenstrual dysphoric disorder, and since she entered puberty, three years ago, her life has been an endless cycle of severe depression, anxiety and she has even suffered psychotic breaks.
Her symptoms start about 10 days before her period begins, and so she spends a third of her life in distress. We've been to gynecologists, tried several types of medication, and psychotherapy but nothing helps.
My poor child lives in an agony of anticipation and fear of 'that time of the month,' and there is little I can do to help her.
Now she has come to believe the only way to overcome her PDD by having a hysterectomy, Both my mother-in-law and her daughter suffered from PDD, and I believe that my daughter inherited this condition from her father's side of the family.
My mother-in-law had her uterus removed at 42, and my sister-in-law underwent a hysterectomy at 35. The operations were effective and stopped their PDD, but they were both adult women who had had children.
My daughter is 15 and having her uterus and her ovaries removed will mean that she will never experience motherhood, and I don't think she is mature enough to make that decision.
My husband is on her side, especially since my daughter tried to take her own life twice because of her disorder. I just can't sign off on a child making such a huge, binding decision.
I'm petrified that in a few years she will regret this, and there is no going back, she will be effectively sterile. I'm locked in a battle with my husband and my daughter, and it breaks my heart that she doesn't understand why I won't agree.
I'm feeling ostracised by the people I love the most. I hate seeing my daughter in such pain, but how can I allow her to mutilate herself in this way?
Am I wrong? Am I so emotionally invested that I can't see the logic of it? Please, please, can someone with a cool head and good sense help me?
If you need help or advice, reach out to us, and thousands of women just like you who are struggling with the difficulties of life. You are not alone, we are here for you, and we listen; so write to us anonymously using this form.
Please fill in your e-mail so we can share with you our top stories!