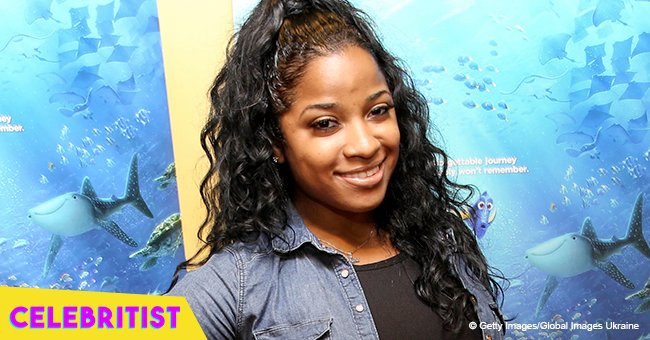 Toya Wright steals hearts with photo of baby Reign looking 'ready for her first road trip'
Toya Wright's baby girl, Reign Rushing is officially ready for her first road trip. The proud mother posted a photo of her little bundle of joy in cute clothes looking all glammed and ready to hit the road. She was in a salty mood, though.
Toya Wright's baby girl, Reign Rushing is growing up quite fast and looking more like her mommy every day. Toya posted the first of many photos showing Reign in a cute dotted romper, a pair of little shoes, and a bow that most fans just couldn't get enough of. From the look of things, they were planning to hit the road but lil' mama wasn't in the mood for all the photos her mother was taking.
Toya's caption summarized the situation perfectly;
"Reign is all ready for her first road trip. I couldn't get a smile this morning. lol. She still upset about them shots yesterday."
Fans had several opinions to present. One felt that God deserved credit for the creation of perfection. "When something so innocent, sweet, and beautiful is created, and presented in human form- you have to know there is a GOD. ONLY GOD can create someone this perfect." Another one loved the shoes. "Love her little sun sandals old school shoes. And last forever."
A few found the time for negative comments. "You need to have a boy so we can see what That looks like because it look like you be making some ugly ass girls." One came to the defense of the mother of one instantly. "It's a sHA me people have so much negativity,hateful things to say.DON'T SAY NOTHING AT ALL.TH REIGN IS A BEAUTIFUL BABY!!!! TOYA JUST PRAY AND DON'T STOOP TO THEIR LEVEL!!!!! LOVE Y'ALL!!!!"
Regardless of what some think, Reign is beautiful baby.
Please fill in your e-mail so we can share with you our top stories!