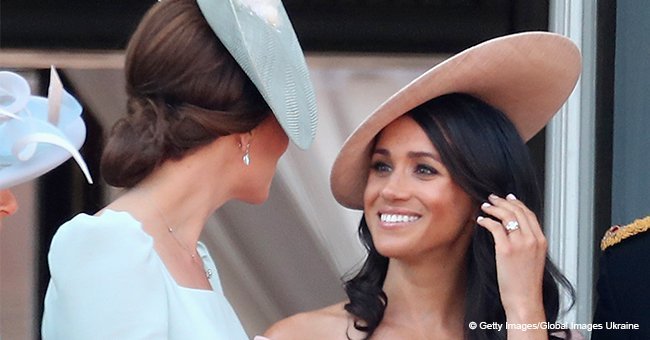 The reason why Meghan Markle stood behind Kate Middleton on the balcony
The new Duchess of Sussex Meghan Markle stood behind her sister-in-law at the Trooping the Color ceremony in accordance with a traditional custom of the royal family.
Last Saturday saw the celebration of Queen Elizabeth's 92nd birthday in the presence of royal family members and a huge gathering of crowds around the Buckingham Palace.
As part of the royal tradition, the members of the family stood together on the balcony of the palace to offer a sign of their respect for the Queen.
Although Prince Harry and Duchess Markle were present at the event, they were positioned far from the front or the center of the balcony.
Instead, the newlyweds stood behind Prince William and Duchess Kate Middleton. According to managing editor of Majesty magazine Joe Little, the order of standing was specific to the seniority of the royal family members.
Speaking to People, Little stated that there was a predefined 'pecking order,' according to which the members stood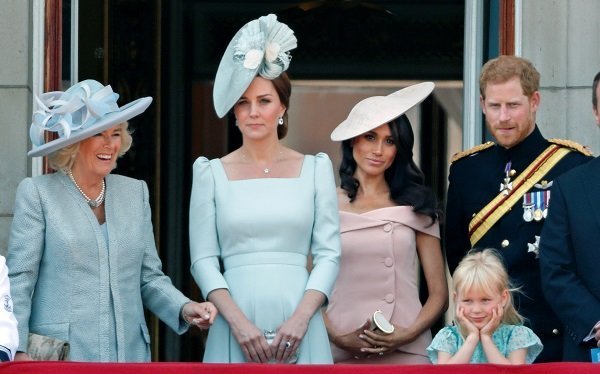 Source: Getty Images/ GlobalImagesUkraine
Acknowledging that it was contrary to the common expectation that the new royal would be at the center, Little asserted that Markle was placed behind Prince William and Duchess Middleton since he was the older brother.
It was in honor of his seniority that Prince William and his wife were given a position in the front row.
This was the same rule that applied at the event in 2011, when Duchess Middleton, the new bride of Prince William, stood towards one corner of the balcony.
In comparison to Middleton's position in 2011, Little believes that Markle got a better place to stand as a new royal bride.
Unlike Middleton, Markle got to stand somewhere near the center of the arrangement, rather than being on the far right or left.
However, another unnamed source has reportedly stated that Markle herself would have decided her position on the balcony. The insider stated that Markle was not allotted a specific place by anyone.
This was Markle's first experience of Trooping the Color, an event that traditionally marks the birthday of the Queen.
Markle was elegantly dressed in a pale-peach-colored dress designed by Carolina Herrera and a matching hat. The crowds cheered for the newlyweds as they entered the venue in a horse-driven carriage.
Please fill in your e-mail so we can share with you our top stories!